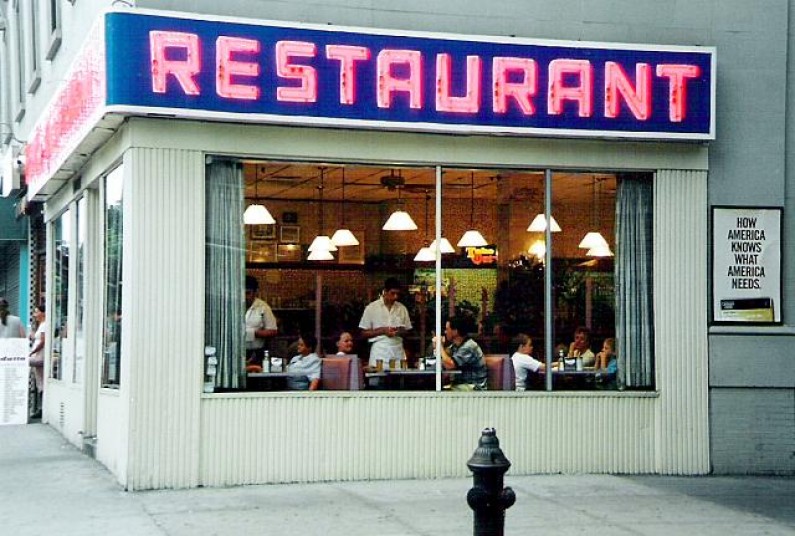 VIA ATTN by Alex Mierjeski
Nearly half of all full-service restaurant workers are enrolled in public support programs out of necessity, and American taxpayers are forced to pick up the slack––an estimated $9.4 billion each year, according to a new report.
In their report, The Public Cost of Low Wages in the Full-Service Restaurant Industry, researchers at the Restaurant Opportunities Centers United (ROC) found that almost half of the families of full-service restaurant workers rely on at least one public assistance program, costing taxpayers a staggering amount, while large full-service restaurant operators continue to pay employees well below what's needed to support themselves and their families independently.
"The lowest wages in the country are actually full-service restaurant occupations, and the difference is with fast food like McDonald's, there's a federal minimum wage of $7.25, but for tipped workers, there's a lower minimum wage for them," Maria Myotte, National Communications Coordinator at ROC, told ATTN:. Since full-service restaurant workers' wages are set to incorporate tips, they make less per hour. But tip amounts are rarely consistent, and generally only bump up wages to regular minimum wage. "That's a big deal," says Myotte. "At the federal level, [tipped minimum wage is] $2.13 an hour, but it's lower than the regular minimum wage in about 43 states, and that comes with a host of pretty problematic issues from wage theft, to women actually reporting that they experience pretty frequent sexual harassment as it relates to them being dependent on tips for their income," Myotte said. "Restaurant workers run into very practical problems like not being able to fill out and get approved for an apartment because they can't show paperwork of a stable income because all of their income is cash."
The tipped minimum wage, which is the lowest wage in the country, has not been raised since 1991, and the report highlights the double subsidy model that critics use to describe the set-up in which customers are burdened with covering the bulk of their server's wage, as well as paying for the programs that low wages force them to rely on; as a result, restaurants are effectively subsidized twice.
The full-service restaurant industry (as opposed to fast-food) employs over 4 million people––a number expected to grow almost 10% over the next seven years. But despite the industry's place as a significant driver of the US economy and job market, full-service restaurant workers occupy at least five of the ten lowest-paid occupations, according to Bureau of Labor Statistics numbers. Researchers reported that restaurant workers on the whole experience poverty over twice the rate of the overall workforce––about 21 percent––and additionally that tipped workers live in poverty almost two-and-a-half times that of the overall workforce. That's one factor leading to a heavy reliance on programs like Medicaid, Children's Health Insurance Program, Earned Income Tax Credit, food stamps, and Temporary Assistance for Needy Families.
To the stance that tipped workers make living wages through gratuity, Myotte told ATTN: that's "a myth." It's only at expensive fine dining restaurants, she explained, that workers working on tipped minimum wages actually end up making a livable wage; the rest are left hanging. "The vast majority of restaurant workers work at Olive Gardens, Applebee's, Red Lobster, and are making a medium wage of maybe just above the regular minimum wage, including tip," Myotte said. "As a case study, the report notes that the taxpayer cost for subsidizing the workers at one Olive Garden restaurant is $196,970 each year.
The report comes on the heels of a major study that examined the public cost for low-wage workers broadly, finding that annual taxpayer cost of assistance programs for workers who rely on them in the absence of higher wages and benefits clocks in at about $153 billion. Reliance on government assistance, that report found, is a crucial supplement for a majority of low-wage workers.
The ROC's report was released strategically a day ahead of Tax Day, when powerful interest groups like the National Restaurant Association (NRA) dispatched lobbyists on the Capitol to keep wages low and benefits minimal for major full-service operators like Darden (Olive Garden, Longhorn Steakhouse), and DineEquity (Applebee's, IHOP). The NRA, which brings in over $91 million in revenue each year, represents many Fortune 500 companies including full-service conglomerates, and has been a driving force behind keeping the federal tipped minimum wage at $2.13, according to ROC.
A spokesperson for DineEquity said he had not seen the ROC study and declined to comment. The NRA could not be reached for comment either.