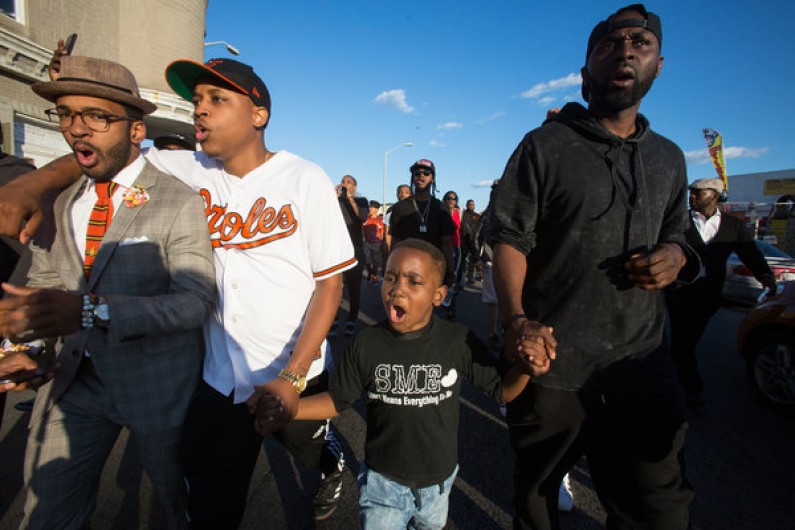 VIA New York Times by Nicholas Kristof
Conservatives have sometimes been too quick to excuse police violence. And liberals have sometimes been too quick to excuse rioter violence.
It's outrageous when officers use excessive force against young, unarmed African-American men, who are 21 times as likely to be shot dead by the police as young white men. It's also outrageous when rioters loot shops or attack officers.
So bravo to Toya Graham, the Baltimore mom captured on video grabbing her teenage son from the streets and frog-marching him home. The boy wilted: It must be humiliating to be a "badass" rioter one moment and then to be savagely scolded in front of your peers and sent to your room.
"That's my only son, and at the end of the day I don't want him to be a Freddie Gray," Graham later told CBS News. It was of course Gray's death, after an injury at the hands of the police, that set off the rioting.
 President Obama set just the right tone.
"When individuals get crowbars and start prying open doors to loot, they're not protesting. They're not making a statement. They're stealing," Obama said. "When they burn down a building, they're committing arson. And they're destroying and undermining businesses and opportunities in their own communities."
Or as Carmelo Anthony, the Knicks basketball star who grew up in Baltimore and has invested in a youth center there, put it: "We need to protect our city, not destroy it."
Yet as Obama, Anthony and other leaders also noted, there are crucial underlying inequities that demand attention. The rioting distracts from those inequities, which are the far larger burden on America's cities.
That also represents a failure on our part in the American news media. We focus television cameras on the drama of a burning CVS store but ignore the systemic catastrophe of broken schools, joblessness, fatherless kids, heroin, oppressive policing — and, maybe the worst kind of poverty of all, hopelessness.
The injustices suffered by Freddie Gray began early. As a little boy he suffered lead poisoning (as do 535,000 American children ages 1 to 5), which has been linked to lifelong mental impairments and higher crime rates.
In Gray's neighborhood, one-third of adults lack a high school degree. A majority of those aged 16 to 64 are unemployed.
And Baltimore's African-American residents have often encountered not only crime and insecurity but also law enforcement that is unjust and racist. Michael A. Fletcher, an African-American reporter who lived for many years in the city, wrote in The Washington Post that when his wife's car was stolen, a Baltimore policeman bluntly explained the department's strategy for recovering vehicles: "If we see a group of young black guys in a car, we pull them over."
Likewise, the Baltimore jail was notorious for corruption and gang rule. A federal investigation found that one gang leader in the jail fathered five children by four female guards.
Wretched conditions are found to some degree in parts of many cities, and Shirley Franklin, the former mayor of Atlanta, told me that when we tolerate them, we tolerate a combustible mix.
"It's not just about the police use of force," she said. "It's about a system that is not addressing young people's needs. They're frankly lashing out, and the police force issue is just a catalyst for their expression of frustration at being left out."
Whites sometimes comment snidely on a "culture of grievance" among blacks. Really? When tycoons like Stephen Schwarzman squawked that the elimination of tax loopholes was like Hitler's invasion of Poland, now that's a culture of grievance.
If wealthy white parents found their children damaged by lead poisoning, consigned to dismal schools, denied any opportunity to get ahead, more likely to end up in prison than college, harassed and occasionally killed by the police — why, then we'd hear roars of grievance. And they'd be right to roar: Parents of any color should protest, peacefully but loudly, about such injustices.
We've had months of police incidents touching on a delicate subtext of race, but it's not clear that we're learning lessons. Once again, I suggest that it's time for a Truth and Reconciliation Commission to step back and explore racial inequity in America.
The real crisis isn't one night of young men in the street rioting. It's something perhaps even more inexcusable — our own complacency at the systematic long-term denial of equal opportunity to people based on their skin color and ZIP code.