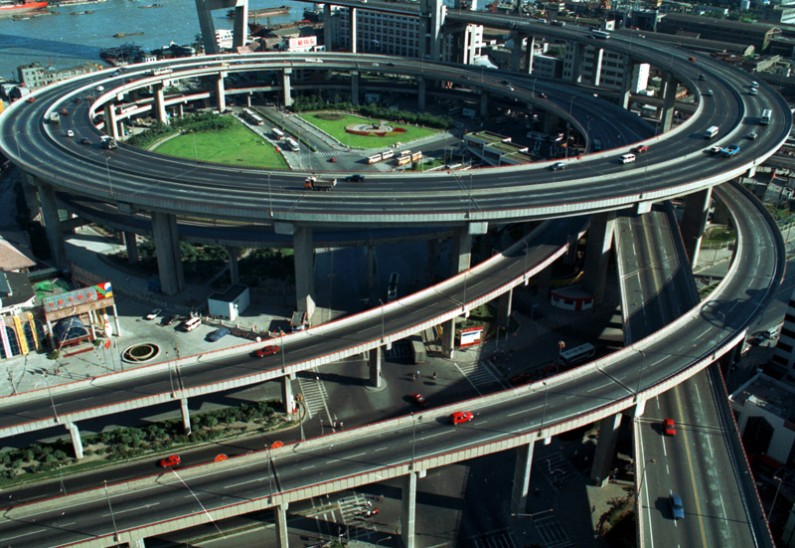 VIA US UNCUT by Lacey McLaughlin
Congress actually did something productive today: diverting billions of dollars in Wall Street subsidies to help repair America's infrastructure.
On Thursday the House approved a five-year, $305 billion bill that will lower dividends from the Federal Reserve to finance highway and transit improvements. As much as $9 billion in Wall Street subsidies will be cut over a 10-year period, according to The Intercept.  The bill marks the first time in 100 years the banks have lost a portion of these subsidies. The Senate is expected to pass the bill by Friday, the deadline for when federal infrastructure funding runs out.
Currently the Federal Reserve pays 6 percent in annual dividends to approximately 2,900 banks.  Those banks includes giants such as JPMorgan Chase, Citigroup, Bank of America, and Wells Fargo. By owning stock in the Federal Reserve as a requirement of affiliation in local Fed branches, these banks are automatically paid the dividend that nets approximately $350 million apiece each year, making it one of the oldest Wall Street subsidies in history.
The reduction will only apply to banks with more than $10 billion in assets, an increase from the original bill's threshold of $1 billion and no longer includes the original dividend reduction of 1.5 percent. Instead, the reduction will match the interest rate of the U.S. Treasury's highest 10-year yield at the time the dividend is due. The latest high yield from the Treasury was 2.3 percent.
Banks aren't taking the news so well.
"This proposal is misguided and undermines a key agreement that has underpinned the U.S. banking system for a century," American Bankers Association president and chief executive officer Rob Nichols said in a statement reported by Bloomberg News. "Banks shouldn't be used like an E-Z Pass to pay for highways."
Congress has taken a patchwork approach to funding infrastructure improvements over the last decade, with spending decreasing by 19 percent since 2003.  As a result collapsing roads and bridges, outdated rail lines and costly repairs earned America a D+ in the American Society of Engineers' Report Card. 
By proposing a $1 trillion infrastructure funding plan, Democratic presidential candidate and Vermont U.S. Senator Bernie Sanders wants to shore up the country's infrastructure woes and create jobs. Sanders plans to fund the proposal by implementing a 1 percent sales tax on all of Wall Street's financial transactions. That tax is estimated to bring in an additional $130 billion per year.
Presidential Candidate Hillary Clinton is proposing a $275 billion infrastructure plan but hasn't yet provided details on a tax business reform plan to finance the proposal.