Every year manufacturer's release new cars and update their existing lineups… we have compiled a list and divided it into different categories of what we think are the best cars of twentyfourteen. Everything from exotic Italian supercars to import tuners.  We're not talking the Honda Odyseey's new in car vacuum feature or how many miles a new Prius gets – this a special feature and look into the world's sharpest white knuckle producing vehicles.
1. Best Value Supercar
This is best bang for your buck.  The honor of this category goes to the 2014 Porsche Turbo.  There are many critiques of Porsche, they say things like "The designers are lazy and it really hasn't changed since the 70s." and "It looks like a stretched out Volkswagen Beetle."  In response to these critiques we say – show us a car under $181,000 that can compete with the performance a Porsche 911 Turbo can offers.  The twin turbo 3.8 liter boxer motor puts out an insane 560 horsepower and can propel this supercar from 0-60 in 2.9 seconds.  With such a small motor the turbos must be extremely large which means, turbo lag.  However,  Porsche has it figured out… the 2014 model has Variable Turbine Geometry which in lament terms reduces the turbo lag at lower RPMs.  This means consistent power throughout the power band and very few people are going to catch you.
For 40 years now, Porsche engineers have been stubborn and insisted on putting the motor over the rear axle.  At first,  the 911 had a sinister reputation for spinning out of control since the weight distribution was disproportionately in the rear.  Things have change – the sheer brilliance and innovation of German Engineers through decades of tweaking have solved this problem.  The 2014 911 Turbo has an almost equal 50/50 weight distribution and an electronically controlled system which minimizes the oscillations and vibrations of the entire drive train, especially the engine, combining the benefits of a hard or soft engine mounting arrangement.  The result is a car that can corner like Freddy Roach.
Pro's–  less expensive than Italian and British exotics / easier to maintain / over engineered, bullet proof / easily serviced /20 inch turbo wheels
Con's – There are lesser model Porsches out there that look similar (i.e. caymens and boxers) which means they are not quite as exclusive as other supercars
2. Best American Sports Car
The new 2014 Corvette Stingray.  This has been in production since the 60s and synonymous with performance and style.  A poster child for American sports cars for 50 years.  Recently, the  played out C6 model was retired and the C7 was  introduced, which carries the legendary Stingray badge.
The new Stingray is the best looking Corvette in a long, long time.  For only $51,000 – you get 460 horsepower, 6.2 liter, V8 power, and 0-60 in 3.8 seconds.  Even with such a massive V8 under the hood, the engineers at Chevy somehow managed to get an EPA estimated 30 MPG on the highway – absolutely unheard of.  There are some 4 cylinder Eco-boxes that don't even get that kind of mileage.  The critique of American Sports cars is that they are only fast in a straight line and can't compete with the more sophisticated European rivals… BUT,  the New Stingray stomps the critics with a tech arsenal that includes an electronically controlled limited-slip differential, aerodynamic lessons learned from racing, manual-transmission rev matching, a patented means of sensing tire temperature to fine-tune the chassis, stability control, ­limited-slip diff, magnetic dampers, and traction management that puts it in the same league as the ZR1. Say that 5 times, fast. But seriously, this car WILL take corners with the best of them.  Finally if you opt for the $2800 Z51 package which includes dry sump, larger-diameter wheels, bigger front brakes, lubricant coolers, more-aggressive gear ratios, and electronic differential, this Corvette turns into a true Racer.
Pro's – Easy on the wallet/ cheap maintenance / serviced at any Chevrolet dealer in the country
Con's – Corvette's sometimes have the reputation of being a retired old man car / interior not up to par with competitors
3. Best Mid-Priced American Performance Car (A.K.A Pony Car)
This award goes to the famous Ford Mustang.  2014 will be the year of the mustang…  potentially being the best model since the 60s and the late 80s fox body 5.0 liter mustangs.  Its main competitors are the Chevrolet Camaro and the Dodge Challenger – it's like we are in the golden age of Muscle cars again. Beautiful.
This time around the Mustang comes out on top, with more engine and performance levels than the rest.  In 2014, you could get a mustang in 10 different models ranging from a convertible V6 priced at $27,000 to a Shelby GT500 which will set you back $55,000.  We are going to focus on the top of the line Mustang, the Shelby GT500.  The SVT team at Ford shoved a massive 5.8 liter DOHC 32-valve V8 engine Supercharged engine with an intercooler, which forced induction motor puts out 662 horsepower and 631 lb.-ft. of torque.  That's enough power and torque to burn the tires off in a matter of minutes.  Ford also claims the Shelby GT500 can achieve 200MPH.  Who would have ever thought?  At that speed, you better be able to stop and the 4 Brembo brakes will take care of that in a hurry.  This year will be the first time that a Shelby GT500 is factory equipped with launch control – a huge benefit with all the power under the hood and with this assistance it can achieve 0-60 in 3.1 seconds.  If you think the Shelby is overkill just wait until Roush and Saleen get their hands on it…  you can expect an even more aggressive appearance and a significant boost in performance.
Pro's – The cheapest way to achieve 200MPH / great styling / easily serviced
Con's – At such a cheap price it's not the most exclusive car / handling could be better
4. Best Small Import/ Tuner
Every generation has it's category of fast, modified cars.  For the past gen this was the classic muscle cars, for this generation it's the import tuner.  This category continues to grow as more and more younger people get into the car scene.  Our award for best import tuner goes to the king of tuners the Subaru Impreza WRX STI.  As this car only comes in a four door model it is one of the most practical cars on our list.  It can be either a weekend street racer or a baby carrier and has a balance of power and handling.
The WRX STI goes for $35,000.  This comes with a 2.5 liter turbo charger 4 cylinder boxer motor that puts out 305 horsepower from the factory. The small but powerful motor propels the WRX STI from 0-60 in a short 4.7 seconds.  It will undoubtedly last far beyond the 100,000 mile threshold as long as you don't bang it up trying to pull a Brian O'Connor… and in doing so is more reliable than its main competitor the Mitsubishi Lancer Evolution. Worth noting-  if modifications are your thing than this is the car for you.  There are more performance parts out there for WRX's than almost any car out there today, which makes it pretty easy to achieve 400 horsepower.
Pro's– lots of performance parts available / very reliable / value for the performance
Con's– only comes in 4 door or 5 door hatch back model(every kid and their mother who watched Fast and Furious probably owned one at some point)
5. Best Small Performance Car (Sub-Compact)
Most people recognize the FIAT Abarth from the Charlie Sheen commercials or the one with that really hot Romanian girl, but aside from that very few people know much about this car.
Abarth was a motorcycle racer who eventually went started his own performance shop.  In 1971 he sold the company to FIAT who used it to make performance models of their cars.  In 2012 the FIAT 500 Abarth was introduced in America and 2 years later it still wins our best Small Performance category.  For a minuscule price of around $25,000 you can own the hottest FIAT 500 in production.  This tiny car also comes with a tiny 1.4 liter I4 turbo charged motor that somehow still puts out 160 horsepower.  The Abarth can achieve 0-60 in 6.7 seconds, very impressive for such a small car.  Roll stiffness is up by 40 percent from the base 500 with Koni shock absorbers, lower ride height, more negative camber up front and an antiroll bar out back.  Once you get behind the wheel you feel like you're driving a go-kart with charged-up power and handling. For a front wheel drive car under steer and torque steer are kept in check.  The most impressive aspect of the Abarth is the exhaust and the sound it makes – very unique and like there is something much bigger that a 1.4 liter motor under the hood.
Pro's – Great power / handling and looks / thousands less than its nearest competitor
Con's – Usually handled through Chrysler service centers instead of its own dedicated facilities and has a sketchy reputation to overcome.
6. Best American Luxury Sport
Remember when Cadillac's were boats that were for people receiving social security and golfing eight times a week?  Cadillac has done a complete 180 to their image. Cadillac now stands for performance, technology, and luxury, which is why Best America Luxury Sports car goes to the Cadillac CTS V
With its aggressive angular styling, very few cars are as recognizable driving down the road as the CTS V.  Priced between $64,000 to $73,000 depending on options this car is significantly less than its European competitors.  In 2014 Cadillac is coming out with a CTS Vsport that has a turbo charged V6 but we're focusing on its big brother which will be released later this year and has a 6.2L supercharged V8 that puts out an awesome 556 horsepower.  This motor powers the CTS V from 0-60 in 4 seconds… your grandma's caddy couldn't do that.  The CTS V has dual-mode Magnetic Ride Control that reads the road up to 1,000 times per second, leading to improved handling.  With Brembo brakes to help it turn it down and optional Recaro seats, this Cadillac can either be a CEO's cruiser or the adrenaline junkies speed-fix.
 Pro's – Good combination of luxury and power
Con's – Limited market
7. Best European Luxury Sport
Since we have the best American luxury sports car it is only fair that we look at the best Europe has to offer.  When you think of European Luxury Sports cars the first thing that probably pops into your head is the BMW M5 but we believe that in 2014 the Mercedes-Benz E63 AMG 4MATIC is the better car.
AMG started off as an independent performance engineering firm who was later taken over by Mercedes.  Now if you see a Mercedes with an AMG badge on it you know that it is a performance vehicle.  In 2014, the E63 AMG gets a bit more aggressive, with styling that distinguishes it from the rest of the Mercedes lineup.  Under the hood there is a twin turbo V8 that puts out 550 horsepower.  If you opt for the S model than the power is bumped up to 600 HP.  With this kind of power the E63 AMG can achieve 0-60 in 3.4 seconds.  Also since it's one of the top of the line Mercedes models it comes fully loaded and is the epitome of luxury.  Of course, you pay for it… to the tune of $93,000.  Besides the sedan model the E63 AMG comes in a wagon too, so if you want to get your groceries in record time than the E63 AMG wagon is definitely the car you.  The E63 AMG is also a 4MATIC which means it comes with 4 wheel drive standard, something its competitors don't have.
Pro's – Great power and standard equipment
Con's – More expensive than some if it's competitors
8. Best Car as a Future Collectible
If you tend to look at cars more as an investment than for the driving experience than the best car out there now is the Ford GT40.  It's true, it has been a couple years since this car was produced but this year you can get a GT40 for around $150,000.  That may seem like a lot for a ten-year old used car but when you look at the history of the Ford GT, it's low production numbers and its under priced value right now it is a great investment considering that 5-10 from now a solid, low mileage Ford GT40 may go be going for around half a million dollars. So, we're looking at a 300% return over time, which is most likely better than your IBM stock will do in the same period.  This mid engine supercharged V8 puts out 500 horsepower and can achieve 0-60 in 3.7 seconds.  The aluminum frame and body panels make the GT40 extremely light which translates into quickness.  The original GT40 was built to race in the Le Mans series and end Ferrari's dominance, which is why the GT40 received the nickname Ferrari Killer.  The new GT40 builds on its heritage as a fast and well handling supercar that is worthy to wear the badge of its predecessors.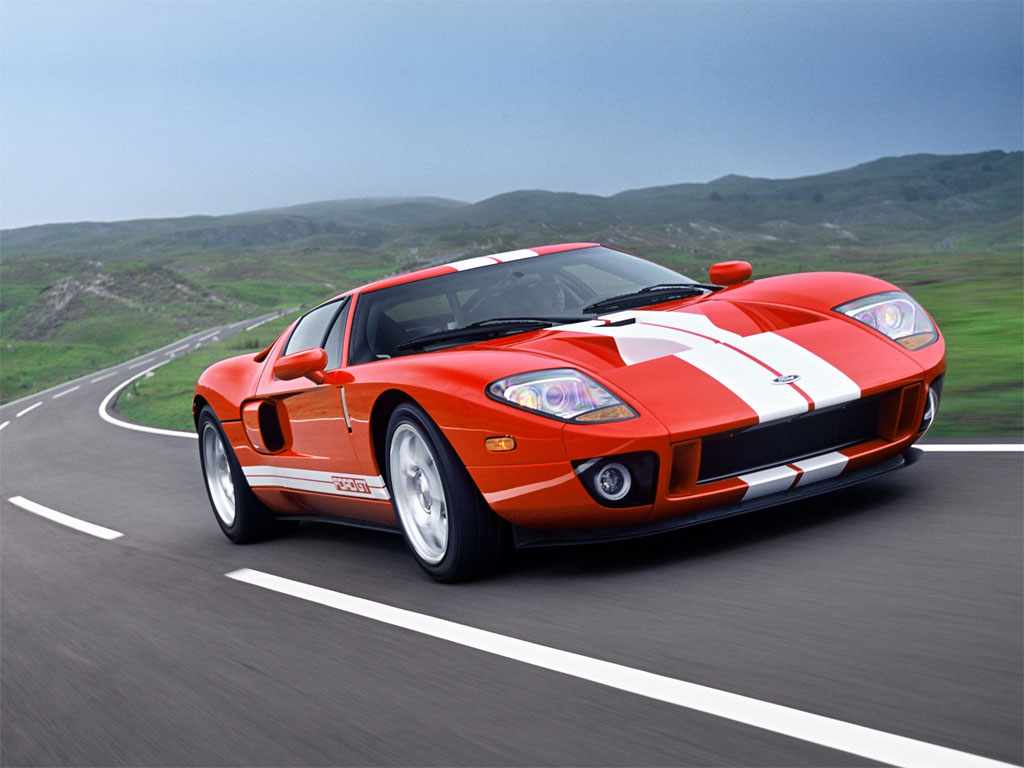 Pro's– Very undervalued / low production numbers / very good performance
Con's – Impractical / tough car to get in and out of /interior sub-par
9.  Best Italian Supercar
No list would be complete without an Italian supercar.  The kind of cars that are on the posters on our walls…  that we dream of one day getting the opportunity to drive, just once.  Iconic cars like the Ferrari F40 and the Lamborghini Diablo.  In 2014 Ferrari will be producing another car that will go up on our walls, the LaFerrai.  Named after the company it only needs that one famous name.
This 950 horsepower mega car will go on sale for at least $1.2 million.  The unfortunate part is that Ferrari will only be producing 499 LaFerraris so the chances of getting one if you have that kind of money are very, very slim.  The 6.3 liter V12 produces 789 horsepower while screaming at 9000 RPMs.  The remaining horsepower comes from two electric motors that were developed with the help of the performance shop Magneti Morelli.  The first motor helps power the wheels while the second powers the LaFerrari's accessories.  These two motors combined to contribute the rest of the horsepower and achieve the 950 mark.  With all of this power it can reach 62 mph in less than three seconds, 124 mph in less than seven, 186 in about 15, and top speed above 217.  The design of the LaFerrari is unlike any other car out there and in typical Ferrari fashion it's not just for style.  The body of the LaFerrari has active aerodynamic elements, including active diffusers front and rear, guide vanes on the underbody and an active rear spoiler all aimed at providing down force when needed without any additional drag when not.  There is more technology in this car than a space ship and is one that we dream of more than once.
Pro's – Very Exclusive… it's Ferrari – the best of the best
Con's – Very low production numbers / huge price tag
10. Best Motorcycle
We're not experts of motorcycles but we do know performance when we see it.  The Japanese manufacturers make some of the best superbikes in the world but we went a little less conventional.  We selected the Italian made Ducati Superbike 1199 Panigale R because of its insane performance.  This is basically a race bike built to be street legal.  It does have a second seat for your girlfriend but she'll probably fall off the second you peg the throttle.  With a 195 horsepower this bike will do 0-60 in under 3 seconds and can easily reach speeds in the 190s…  just take a minute to think about that.  This motorcycle has more power than a brand new Honda Civic and it's all between your legs, pause.  It goes for $31,000, pretty expensive for a bike.
Pro's – Not as many people own Ducati's as Japanese bikes / incredible performance
Con's – $31,000 is expensive for something you wouldn't really want to drive in the rain