VIA "cbssports.com" by Jason La Canfora
Video VIA "imhatedon247" youtube channel
GLENDALE, Ariz. — This NFL season was spiraling toward its epic conclusion, each second seeming to come more quickly than the last, two of the game's master tacticians trying to figure out how to manage what was left of a rapidly dying clock.
Seattle, after a miracle catch by Jermaine Kearse, juggling a ball while on his back, was at the New England 5-yard line, with 66 seconds to go, trailing 28-24 in Super Bowl XLIX at University of Phoenix Stadium, still with one timeout left.
On one sideline, New England coach Bill Belichick, arguably the greatest ever to do this, faced a grueling decision whether to call a timeout — he had two remaining — or maybe allow Seattle to quickly score to give legendary Tom Brady all the time possible to drive for a game-tying field goal.
And on the other, Seattle coach Pete Carroll — five yards from becoming the first man ever to win back-to-back Lombardi Trophies and back-to-back finishes atop the AP college poll — appeared to have this game all but won with Marshawn Lynch, one of the dominant running backs in the game at his disposal on a day when the battering ram would top 100 yards.
What transpired next will live in the annals of this league for as long as football games are played. This series of decisions — including a bizarre call by Carroll to throw on second down on a route in the crowded middle of the field that will be second-guessed just as long — would result in Belichick and Tom Brady, the game's MVP, making history with their fourth Super Bowl title together, and would culminate in Carroll giving a repeated, occasionally rapid-fire and awkward explanation of the thinking that ended up with rookie corner Malcolm Butler, a spare part all season, with the ball in his hands on a game-clinching interception in the end zone.
"There's really no one to blame but me, and I told them that clearly," Carroll said of his message to his team, "and I don't want them to think anything other than that. They busted their tails and did everything they needed to do to put us in position, and unfortunately it didn't work out."
By the time Carroll hit his podium in the postgame interview room, he was beyond prepared to tell his side of the story. He was being as candid as he could possibly be, especially given the historical significance of this sequence and his place on the wrong end of it. He repeated to reporters that he understood their flurry of questions and why he didn't merely take repeated shots with Lynch on the ground to bleed the clock and win the game, especially with him still holding a timeout in his back pocket. But the longer it went on, the more terse Carroll became, and every Seahawks fan, as well as the men in his locker room, will have to make his or her own personal peace with the tale.
On first down, Lynch ran for 4 yards, to the 1, with 26 seconds remaining, and Carroll sent in his personnel: in this case, three receivers — Doug Baldwin in the slot to Russell Wilson's left and Kearse and Ricardo Lockette stacked to the quarterback's right — with a tight end at the line and Lynch in the shotgun with Wilson. New England countered with its heaviest goal-line formation, which is all anyone would have ever expected of them, and then the Seahawks' season went awry.
"We sent in our personnel, they sent in goal line; it's not the right matchup for us to run the football," Carroll said, at this point cool and calculated. "So on second down, we throw the ball really to kind of waste that play. If we score, we do. If we don't, then we'll run it in on third and fourth down, really, with no second thoughts or hesitation in that at all."
The play's design was a "concept" that Carroll and Wilson felt comfortable with. Kearse, lined up ahead of Lockette, was instructed to initiate contact with the nearest cornerback to open up an inside lane for the trailing receiver to slide in near the goal line and catch the ball.
Sounds logical enough, but rather than have the primary look for the quarterback outside, a fade route to the sideline … a screen to Lynch … even throwing the ball into the stands — in real time and hindsight — all would have been safer. But Carroll and offensive coordinator Darrell Bevell wanted to bleed the clock as much as possible, and either score a touchdown throwing on second down, or run on third down if the pass was incomplete.
"We wanted to be really conscious about how much time was on the clock," Bevell said. "We wanted to be able to use it all."
Wilson said he harbored no doubts about the soundness of this logic — "I trust my instincts and I trust the play," — and believed, because of their success with this design in the past, "I thought it was going to be a touchdown." Problem was, a corner who no one had really ever heard of before, Butler, had other ideas. He read the play perfectly, got to the ball's target point a half-step before Lockette, cradled the ball in his arms, went to the ground with 20 seconds to play, and the Patriots were world champs.
"When I let it go, I thought it was going to be game over," Wilson said. "It was one inch too far, I guess."
Butler, who at this point figured he was going to have to wait until next season for his first NFL interception, was still struggling for words after the game. He figured with New England in desperation mode, and Seattle showing three receivers, it was going to be a pass, and the structure of the route lent itself to something inside the hash marks. And, with All-Pro Darrelle Revis lined up on Baldwin on the other side and proven veteran Brandon Browner, a former Seahawk, lined up on Kearse, the rookie figured the action was coming his way.
"I knew he was going to try me," Butler said of Wilson, still wearing his pads as he met the media. "I'm pretty sure he knew I was a rookie. Who wouldn't try a rookie?"
Butler's mere presence on the field looks like just another master stroke for Belichick, whose place in the game was only further cemented by these four quarters of historic football. "Malcolm had a hot hand there in the fourth quarter, if you will," Belichick said of a player who was listed as fifth on the depth chart New England released before the game. "So we stayed with him."
Belichick said had Seattle run on second down and his team stopped it, he would have called a timeout rather than let them score, though that ended up being rendered moot. "We were in our goal-line with all guys stacked on the line of scrimmage and we were man-to-man on the three receivers. We prepare for that situation as part of our goal-line package."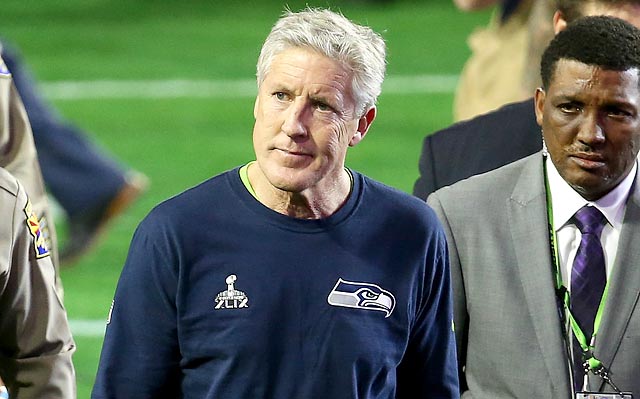 Carroll remained steadfast through his questioning. "You can ask all you want — we were going to run the ball and win the game, but not on that down," he said, but New England's defense was clearly surprised.
"We were expecting the run again," said New England's mountain of a defensive tackle, Vince Wilfork, who has anchored the Patriots' run defense his entire career and might have played his final game. "When they passed at that point in the game, I was surprised."
Patriots linebacker Dont'a Hightower said: "I think everybody was expecting run. You've got Marshawn Lynch, who's able to run the ball on the goal line or 1-yard line. So I think everybody figured it would be a run."
Patriots linebacker Jamie Collins said: "Why wouldn't you give it to 'Beast Mode,' right?"
Patriots defensive lineman Alan Branch said: "You don't expect a team to pass the ball in the middle of your defense on the goal line."
Some Seahawks offered milquetoast support of the thinking, but clearly they were still dismayed by what occurred. Not quite able to process it all yet, Seahawks corner Richard Sherman, the most outspoken talker on the team said he was "not really" surprised by the play call on second down because "we've done it before." Center Max Unger offered, "There's no point in dwelling on what play gets called in the huddle because it's up to us to actually do it." And Baldwin conceded "all of are surprised" that Lynch didn't get the ball at the 1, "in that moment with 20 seconds left on the clock and we still have a timeout."
(Lynch, whose complicated relationship with the media made for a weeklong subplot, was not among those made available to the press in the interview room.)
Alas, it was not meant to be, and in an instant, literally, Seattle's fortunes were reversed in as cruel a fashion imaginable. It's a play, and play call, no one on this team will ever forget, and one that will forever be called up whenever Carroll's immense imprint on this game is discussed. There will be more games, and more season-defining decisions, but it's difficult to imagine anything on a bigger stage, in a bigger moment, a moment where Belichick reached new pinnacles and Carroll faced probing inquiries.