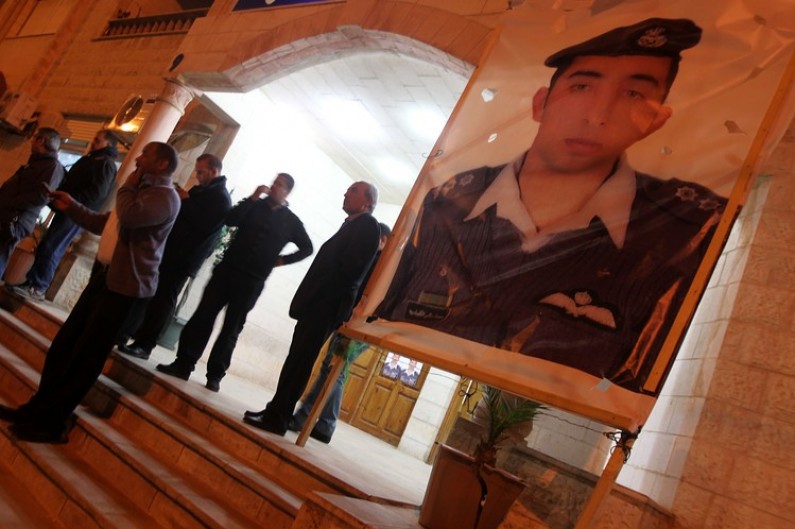 VIA "wsj.com" by Asa Fitch, Suha Ma'ayeh, Maria Abi-Habib
AMMAN, Jordan—Jordan executed two convicted terrorists early Wednesday, hours after Islamic State jihadists released a video purporting to show them burning alive a captured Jordanian air-force pilot.
The death of the pilot, First Lt. Muath al-Kasasbeh, had spurred promises Tuesday evening of a severe response from Jordan, but execution of the two prisoners in the early hours of Wednesday came with unexpected swiftness. It was a dramatic tit-for-tat in the fight against Islamic State militants who have killed numerous high-profile hostages as they have spread across Iraq and Syria since last summer.
The two executed were Sajida al-Rishawi, an Iraqi woman whose release the militants had demanded, and Ziad al-Karbouli, a man convicted in 2007 of plotting terror acts, according to an interior ministry statement.
Jordan last week offered a prisoner swap under which it said it would exchange Ms. Rishawi for Lt. Kasasbeh, who had been captured in December after his plane crashed on a mission over Syria.
Ms. Rishawi—a self-described al Qaeda operative—was sentenced to death for her role in Amman hotel bombings in 2005. The militants had demanded Ms. Rishawi be handed to them by Jan. 29 to spare the lives of Lt. Kasasbeh and another hostage, Japanese journalist Kenji Goto.
Jordan asked for proof the pilot was alive, however, and the talks stalled. Islamic State distributed a video Saturday purporting to show Mr. Goto's decapitation, drawing condemnation from leaders in Japan, Jordan, the U.S. and elsewhere.
The video of Lt. Kasasbeh's purported killing then emerged on Tuesday evening. The 22-minute video begins with footage of Jordanian involvement in a U.S.-led military coalition against Islamic State. It then shows what appears to be Lt. Kasasbeh describing Jordan's military operations before he is burned alive inside a cage.
Jordan's government confirmed Lt. Kasasbeh's death shortly after the video's release by the extremist-tracking organization SITE Intelligence Group, but didn't say whether the video was authentic. Jordan's government spokesman promised "an earth-shattering response" against Islamic State.
U.S. and Jordanian officials expressed outrage over the killing and vowed to press on with the campaign against Islamic State, a radical group that erected a de facto state across large swaths of Syria and Iraq last summer.
President Barack Obama said Tuesday that if proved authentic, the video was a further indication of "the viciousness and barbarity" of Islamic State and would toughen the coalition's resolve. "This organization appears only interested in death and destruction," Mr. Obama said.
Jordan's King Abdullah II, who met with Mr. Obama on Tuesday in Washington in a previously planned visit, called for unity against the extremist group on Jordanian national TV.
"In these difficult moments, it is the duty of all the nation's people to stand in one line and to show the true element of the Jordanian people in facing this adversity," the king said.
The pro-Western Arab monarchy faces a rising tide of support for Islamic State and al Qaeda across rural Jordan, which is one of the largest contributors of fighters to the nearly four-year-old Syrian civil war.
King Abdullah also must confront anger among southern tribes, home to the Kasasbeh clan, for the government's role in the U.S.-led fight against Islamic State.
It remained unclear late Tuesday whether Jordanians would rally behind the monarchy in what amounts to a national tragedy—or turn against it.
In Lt. Kasasbeh's town of Karak, protesters partially burned down the governor's office, said a local police officer, with reports showing hundreds of people chanting anti-Islamic State slogans, and others denouncing the government.
 Will the high-profile killing of Jordanian pilot Muath al-Kasasbeh prove a turning point in how countries view the fight against the Islamic State? Washington Institute senior fellow Andrew Tabler discusses with Sara Murray. Photo: AP.
After state media reported on Tuesday that the pilot was killed Jan. 3, many Jordanians wondered whether the government was sincere when it claimed to be negotiating Lt. Kasasbeh's release with Islamic State. Officials couldn't be reached to clarify when they first knew of Lt. Kasasbeh's death.
"The government was lying!" yelled a relative of Lt. Kasasbeh, referring to reports Tuesday that the pilot was killed in early January. The relative was accompanied by other Kasasbeh family members who were holding a vigil at a guesthouse set up for them in Amman when the pilot's fate appeared to hang in the balance. Hundreds of people were gathered there Tuesday evening as news of his death emerged.
The pilot's brother began wailing, his face buried in his hands, as his father, shaken with grief, took calls from Jordanian officials offering condolences.
A few men railed against King Abdullah outside the guesthouse, a rare display in the autocratic country, where criticism of the royal family is illegal. "The king should be unseated!" one of the men yelled, although relatives of the pilot were quick to distance themselves from the outcries.
Others rallied behind their opposition to Islamic State, chanting "the blood of our martyr will not go in vain."
Rear Adm. John Kirby, the Pentagon press secretary, said the coalition's effort to destroy Islamic State's capabilities in Iraq and Syria would continue.
"I do think that this has the potential to backfire on them. I absolutely do believe that, in the region," Adm. Kirby said. "There's not going to be any loss of focus. In fact, an event like this only sharpens that focus and makes it that much more important for us to succeed."
Experts said the killing puts Jordan in a difficult situation. The king can't appear to retreat from the coalition, but Lt. Kasasbeh's death could pressure Jordan to lower its profile.
"In the short term, they can't look like they are backing down, but you have to wonder if they're going to be a little more skittish sending fighter pilots into [Islamic State] territory," said Will McCants, director of the Brookings Institution Project on U.S. Relations with the Islamic World. "In the short term, they are going to double down to try to demonstrate firm resolve."
U.S. officials said of Arab members of the coalition, Jordan is particularly focused on the threat that Islamic State, more than Syria's regime, poses to the region.
Sen. Jim Inhofe (R., Okla.) met with King Abdullah after the video's release and said the Jordanian leader renewed his commitment to fight the militant group.
"The Jordanians have exemplified an unwavering commitment in their heart and with their resources to fight back [Islamic State] and violent extremism in the region," Mr. Inhofe said.
In the video, the pilot—dressed in an orange jump suit of the of the kind the U.S. made Guantanamo Bay detainees wear, now adopted by the militants for their prisoners—is marched among a formation of Islamic State fighters cocking guns. The pilot is then seen in a black cage, his clothing doused in flammable liquid, as a militant sets alight a stream of fuel leading to the cage.
Lt. Kasasbeh's killing marks the first time Islamic State has used burning to execute a high-profile prisoner. The group has beheaded numerous hostages in the past, including two Japanese men in the past two weeks.
Some analysts said Islamic State's new grisly method showed it was trying to maintain shock value in its propaganda and scare participants in the U.S.-led coalition. But the choice was unusual because the Sunni Islamic jurisprudence that the radicals adhere to contains prohibitions against burning people, whether dead or alive.
"It was an expected scenario that they would kill him, but not this way," said Ahmad Ali, among hundreds supporting the family outside the guesthouse Tuesday. "They are not Muslims, because in Islam you don't burn people."