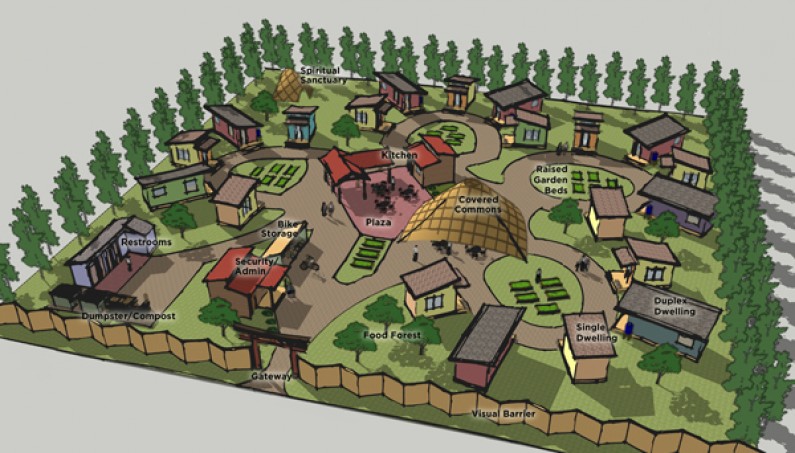 On any given night in the central Oregon city of Eugene, there are about 3,000 people who don't have a home to return to. Opportunity Village Eugene, a nonprofit organization based in that city, has a big plan to end it.
Tiny houses.
The mission of Opportunity Village Eugene is simple but impactful: they want to create small, self-managed communities of low-cost tiny houses for those who lack homes. Opportunity Village isn't a permanent housing arrangement for the city's homeless. Rather, it's a stepping stone to transitioning back into society and having a home themselves. "After only a few months of living there my girlfriend and I now are living a life where we are able to sustain a home on our own after being homeless for 2 years." says Sam Johns on the organization's website.
Opportunity Village is a rather bare bones operation. The homes serve as shelter and a safe place to store belongings and not much more. The tiny homes are at most 60 square feet and are not equipped with running water, plumbing or electricity. Some residents have been able to get their hands on donated solar panels to power small devices like cell phones and small appliances.
But now, Opportunity Village Eugene is raising $15,000 to establish Emerald Village, a 15-home community that's fully equipped with electricity, running water, outdoor fathering area, laundry facility, food pantry, walking paths, and a parking area. Each of the homes will be 128 to 250 square feet, a big improvement from the powerless, waterless 60 square foot homes.
Members of Emerald Village will make monthly payments toward operational costs of the cooperative and will share in the ownership of it. Each monthly payment will be at most $250 and will go toward utilities and a share of the village, earning the lower-income residents equity. Emerald Village will also be self-governed Democracy Style by the residents who live there.
CLICK HERE to make a donation toward Emerald Village.
As of this writing, Emerald city is $7,419 of the way to their $15,000 goal. They also have a matching grant for $50,000 in place right now too, so every dollar donated is doubled.
It's a small step in countering a huge problem, but I get the feeling it's going to be one of many.