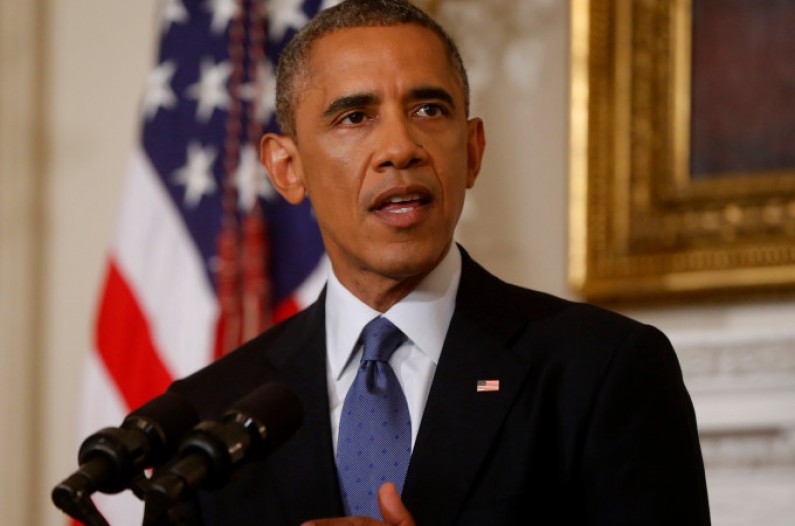 VIA "thehill.com" by Rebecca Shabad
President Obama on Monday will unveil a nearly $4 trillion budget for 2016 that offers a tax cut for the middle class and a $478 billion infrastructure plan, as well as new taxes on the wealthy and businesses.
Administration officials cast the plan, which will be released to the public at 11:30 a.m., as balancing investments in government programs with fiscal discipline.
"You don't need to choose between those two things, you can, in fact, accomplish both. We believe our budget provides a roadmap for how to do that," a senior administration official told reporters during a conference call Sunday.
The budget busts through ceilings on spending that were introduced in a 2011 budget deal between President Obama and House Republicans. The increased spending is likely to be rejected by Republicans now in control of the House and Senate.
The budget will request $74 billion more in spending for domestic programs and the Pentagon that would be allowed under the spending ceilings.
"We feel that the increased investment in discretionary spending on both the nondefense and defense side are vital for our economic and national security," a senior official said.
To pay for those spending increases, the budget will propose mandatory spending reductions, closing tax loopholes and limiting tax benefits as well as immigration reform that reflects the bipartisan bill the Senate passed in 2013.
The new proposal for infrastructure spending is one of the budget highlights. To pay for the new spending for roads, bridges and transit, the administration proposes a one-time mandatory transition tax of 14 percent on about $2 trillion of untaxed earnings U.S. companies have accumulated overseas. The tax would raise about $238 billion, according to an administration official.
Obama's second-to-last budget proposal also includes investments in early and higher education, money to counter the Islamic State in Iraq and Syria (ISIS), address Russian aggression toward Ukraine and aid to help Central American countries following last summer's influx of young immigrants at the southern border.
It includes several new tax cuts targeting the middle class, including a $3,000 childcare tax credit, a college tax credit of $2,500, a second-earner tax credit of $500 and an expanded earned income tax credit for workers without children and noncustodial parents.
These proposals would benefit more than 44 million households and provide an average benefit of $600 per household, the Treasury Department estimates.
As Obama outlined in his State of the Union address last month, the budget would generate $320 billion in taxes over the next decade by raising the capital gains and dividends rate to 28 percent, which would largely affect couples making more than $500,000 per year, and by implementing a new tax on the country's largest financial companies.
The budget would cut deficits by $1.8 trillion over the next 10 years and keep annual deficits below 3 percent of gross domestic product (GDP), the administration said.
In 2016, for example, the budget would bring the deficit down to $474 billion, 2.5 percent of GDP. The deficit last year fell to $483 billion.
Administration officials said debt would fall to 75 percent of GDP in 2016 and even further to 73.3 percent in 2025, much lower than the 79 percent the Congressional Budget Office (CBO) projected would happen last week if current laws remain unchanged.
By the end of 2015, the budget projects real GDP will be 3.1 percent and the unemployment rate will fall to 5.4 percent.
Some of the mandatory spending decreases include a proposal to reduce subsidies in a crop insurance program for farmers, an official said, and initiatives to reduce fraud within the IRS and the Social Security Disability Insurance Trust Fund.
Officials said because the budget's printing deadline occurred before the president decided last week to drop the plan to tax withdrawals from 529 college plans, it does contain it, but the administration won't pursue it. Republicans and Democrats on Capitol Hill lobbied the White House against the proposal.
Congressional Republicans are expected to declare much of the budget dead on arrival, which they've already made clear as details about the tax and spending plans have trickled out. Since the infrastructure proposal, however, would be funded through a corporate tax overhaul, it could speed up negotiations over the tax code in Congress.
The GOP, meanwhile, is expected to introduce a budget blueprint of its own before April 15.