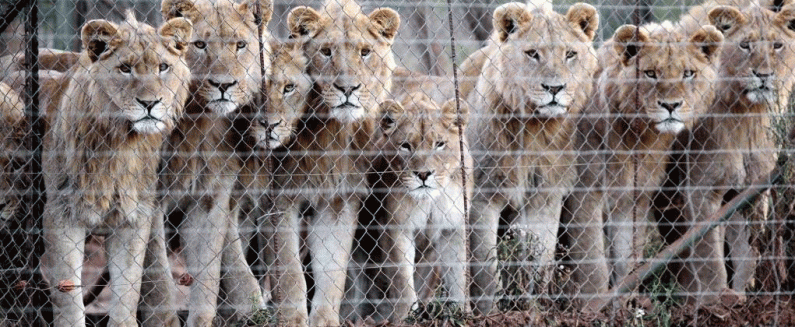 VIA The Guardian
Lion body parts used as trophies from hunting will no longer be allowed to be imported or exported, environment minister Greg Hunt says.
The Australian government is banning the import and export of hunting 'trophies' made from the body parts of lions, in an attempt to help curb the organised hunting of Africa's wildlife.
Greg Hunt, the environment minister, said he had signed an order to prevent the import of the gruesome hunting trophies, effective immediately.
The trophies are often derived from an artificial type of slaughter, mostly taking place in South Africa, called "canned" hunting. Captive-bred lions are put into enclosures where tourists pay thousands of dollars for the dubious privilege of shooting them with guns or crossbows.
Hunt, who announced the crackdown at a "global march for lions" at Melbourne's Federation Square on Friday evening, said the practice of canned hunting was "cruel" and "barbaric."
"It is about raising the most majestic of creatures for a singular purpose and that is to kill them, to shoot them for pleasure and for profit," Hunt said.
"It is done in inhumane conditions. It is involving things such as raising and then drugging and in many cases, baiting. It is simply not acceptable in our day, in our time, on our watch."
Hunt said Liberal MP Jason Wood initially raised the issue with him and that he hoped other countries would adopt similar measures to help prevent the decline of lion numbers.
In the three years to 2013, Australian hunters imported the bodies or body parts, such as skulls and claws, of 91 lions.
Under Australian law, the maximum penalty for wildlife trade offences is 10 years imprisonment and a fine of up to $170,000 for individuals and up to $850,000 for corporations.
The International Fund for Animal Welfare said there were fewer than 40,000 African lions left in the wild, with numbers falling by nearly half in the past 25 years due to habitat loss and conflict with humans.
IFAW said canned hunting had contributed to this decline through direct kills and also by skewing the genetic balance of lion populations by taking large males out of the gene pool to be shot.
Isabel McCrea, IFAW's regional director, said she welcomed Hunt's "bold" ban on canned hunting trophies.
"This decision reflects the Australian public's abhorrence at the inhumane practice of canned hunting, in which lions are reared in captivity and hunted in enclosures," she said.
"We congratulate the minister for standing up for lion conservation and condemning the farming of lions for a thrill kill. We are now hopeful that New Zealand, the EU and USA will take similar steps."