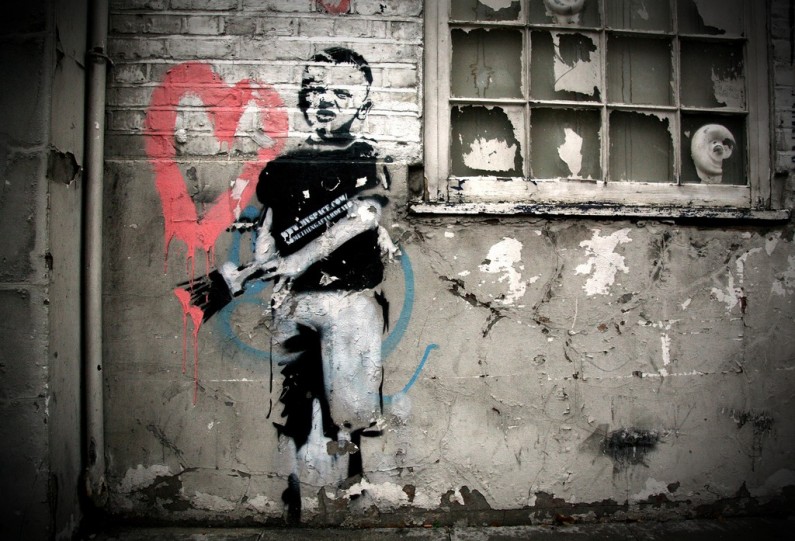 True Activist | The catharsis that comes from awakening to the world's happenings is often eclipsed by the realization of what we – as humans – have caused destruction-wise upon the Earth.
In case you're not aware, the global temperature has increased 1.7 degrees Fahrenheit since 1880, the global average sea level has increased 7″ over the past 100 years due to melting ice caps, and now carbon dioxide levels (whether you believe are caused by man's activities on the planet or not) are at their highest they've ever been in over 650,000 years. This is something that simply cannot be ignored.
One way to slow bring awareness to those who may live in the shadow of delusion – ignorant of the effects their actions have and sustainable alternatives they might employ – is to creatively share messages in high-populated urban areas.
And in the dense thicket of apartment buildings, skyscrapers, and public plazas, exterior walls of concrete buildings become the perfect canvas to display such messages. As shown below, simple slogans and provocative images can do a lot to inspire people to action, or at least remind them about the important issues they might be missing.
Following are 30+ powerful street art images that express a lot with few words.
1. I Don't Believe In Global Warming
Don't Forget To Water The Plants
Killing The Earth Is Killing Us
The World Is Going Down The Drain
If You Follow The News
The Clock Is Ticking…
Unsustainable Urbanization Is Killing The Planet
Animals In The Zoo
'Parking'
We're Consuming The Earth And Her Resources
Remember When This Was All Trees?
It's Not A Mystery.
Locked Up Animals
The World Is On Fire
Born To Be Wild, In The Wild
Eat Yourself
Eating The Earth
The Earth Pie Of Trash
Animal Cruelty Abounds
Ice, Ice Baby
Remember What The Sky Looks Like? It's Hard To See Past Concrete Buildings.
Nothing To Eat
New McDonald's Opening
When Life Gives You Oil Spills…
The Impact Of Air Pollution
Grow
Poor Earth
Enough.
A Seal Playing With Oil
Beware, Happy Meals Kill
Misunderstood Cow
Consumerism And Delivering Trash
Shuts Every Little Shop
Credit: Octopus Creative
What Is Global Warming?
Thanks For Selling Me
No Future… If We Do Not Change
While many of the street art photos featured display a dismal message, there is reason to be optimistic. The world is undergoing exponential change thanks to increased connectivity and awareness made possible by the internet. At exciting rates, cities are committing to sustainable alternatives, and social businesses and entrepreneurial pursuits invested in the Earth's bright future are popping up at increasing rate.
Being aware of what is going on is step one, employing sustainable alternatives is step two, and sharing this article is step three. Together, the world can co-create change before it is too late.
Let us know your thoughts in the comments below.
Source: BoredPanda, and trueactivist, where this was originally featured.