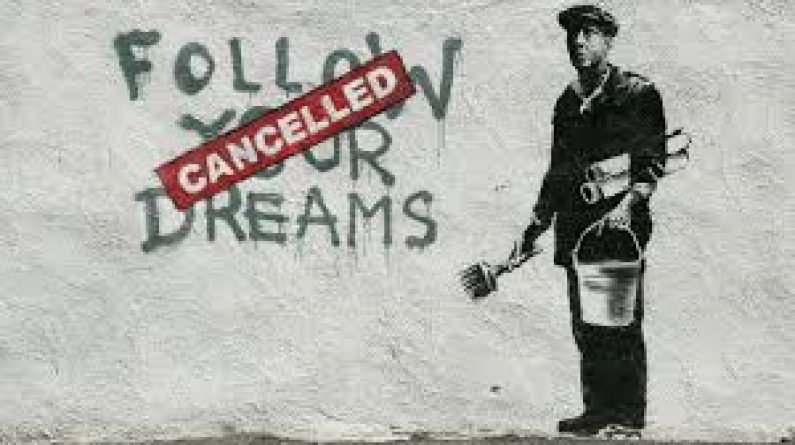 VIA "nypost.com" by Reed Tucker
Last week, landlord Gary Kasakian got some great news: Someone had defaced his building.
Of course, the excitement hinged entirely on who had done the defacing. In the case of Kasakian's building at 729 Sixth Ave., Banksy, (arguably) the world's most famous street artist, illegally painted a whimsical stencil of a dog peeing on a fire hydrant, with a thought bubble coming out of the hydrant reading, "You complete me."
The day after the piece was discovered, about a dozen curious fans were gathered around the work, jockeying for photos.
Kasakian had no idea what all the fuss was about. He'd never heard of Banksy and didn't know his building had been tagged until told by The Post.
"I really have no special feelings about it either way," he says. "People do graffiti [on that wall] and sometimes the [cafe tenant] paints over it. I don't really have any plans for it."
But Kasakian and his indifference appear to be in the minority. A not-insignificant portion of the city is currently involved in a furious scavenger hunt of sorts, waking up each morning and going on the prowl for the latest Banksy work.
The mysterious British artist recently announced on his Web site that he was launching a monthlong artist's "residency" on the streets of New York, with at least one new piece of art unveiled each day. He paints a piece on a wall somewhere in the city during the night (presumably), then posts a photo the next morning at banksy. co.uk and on his Instagram account. He does not reveal the piece's location. Many of the new works have already been defaced or painted over.
Banksy started out in the 1990s Bristol graffiti scene. Soon, however, his graphic stencils, which often take satirical jabs at authority, capitalism or politics, won him a global following. Despite his fame, his identity remains shrouded in secrecy.
"He could be watching us from that hotel window up there or driving by and filming us," says Salim Martin of Manhattan, who was admiring the piece at 729 Sixth. "No one knows what he looks like."
Banksy has also created a satirical audio tour to go along with the "exhibition." Viewers can call 800-656-4271 to hear a plucky male voice explain the importance of the works.
Will Leung has been a Banksy fan ever since he saw the 2010 documentary "Exit Through the Gift Shop," which was directed by Banksy and featured the artist, his identity obscured. It was about — well, go see it for yourself. It's astonishing.
Leung, who lives in Manhattan and works in e-commerce, is a collector of street art and owns a few Banksy prints. He scours message boards and social media for leads on the latest Banksy and talks to his network of fellow collectors. He often posts early photos of the work on his Instagram account Willnyc.
"I have friends that are calling me and texting me throughout the day, asking where the next one is," he says.
"I gotta give it to Banksy, because he's got everyone going crazy," says Bio, a member of the famed Bronx graffiti outfit Tats Cru. "I gotta applaud that."
Bio, who has never met Banksy but has met some of those who work with him, says the artist might have boxed himself in with a gimmick. "If his identity became revealed, how sought out would he be?" he asks. "The mystery would be taken away."
Other local artists are less impressed, including Sacha Jenkins, a Queens-born author and graffiti artist who is curating a graffiti exhibit opening Oct. 17 at Red Bull Studios in Chelsea. Jenkins compares Banksy to Evel Knievel, "pulling stunts to get attention."
True graffiti, he says, is outside the mainstream, and its creators have no desire to win fans around the world. "I think with your blue-collar [graffiti artist], there's not much respect for Banksy, because it's not akin to what real graffiti is," Jenkins says. "And I'm sure there's a bit of jealousy about the financial success he's had."
You can say that again. Banksy's canvases have sold for big bucks to big stars: Brad Pitt and Angelina Jolie spent $1.6 million for a Banksy in 2007. Even his street art, which he apparently does not approve of selling, goes for lots of money. This past summer, a chunk of wall containing a Banksy mural that had been cut from a London storefront sold for $1.1 million.
After hearing that news, building owner Kasakian has now ordered his cafe tenant not to remove the Banksy. Smart man.