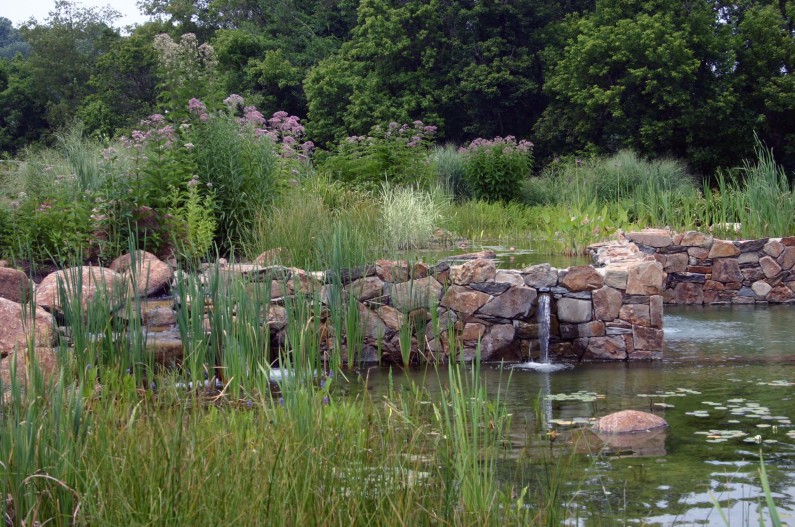 VIA "trueactivist.com" by Amanda Froelich
The first-of-its-kind natural pool will use plants instead of chemicals to keep its water clean, exampling the best kind of balance which is possible between nature and urban environments.
 When innovative minds collaborate, anything is possible.
And this chemical-free outdoor pool – the first in the UK – is a perfect testament to this truth. Ingeniously designed by Rotterdam Studio Ooze architects and artist Marietica Potrč, it's the type of project that will allow communities to explore the intimate relationship between nature and the urban environment in an ingenious setting.
Adventurous Londoners will soon be able to take a swim in the chemical-free King's Cross swimming pool, a man-made freshwater pond that will be filtered and kept clear through natural processes. The first of its kind in the UK, this project is expected to be finished May of this year. (2015)
The "Of Soil and Water: King's Cross Pond Club" project was commissioned as part of the public art program RELAY and the 27-hectar King's Cross redevelopment. 40-meters long, this fresh-water pool can accommodate 100 bathers at one time.
Currently under construction, the natural swimming pool is located in the heart of the King's Cross redevelopment project within the new Lewis Cubitt Park. The pond is built two meters above ground level and measures 10 meters (32 feet) wide by 40 meters (131 feet) long.
The designers of the pool were motivated by a desire to introduce people to a new type of urban experience that looks as natural as possible, and also  help reinforce a strong juxtaposition between wild nature and the structured urban environment.
"The project is a small-scale enclaved environment; a living laboratory to test balance and to question a self-sustaining system including one nature cycle – water, land and the human body," says Efa Pfannes, founder of Ooze Architects. "Actors (visitors to the project) are part of the process. Visitors enter a living laboratory where they are aware of their relationship with nature, and about consequences of their interaction with nature and take responsibilities, they thus become actors."
As shared in Dezeen, users of this magnificently-planned pool will also be educated about the pond's ever-changing landscape and how the pool operates within a small scale, self-sustaining ecosystem. Wetland plants will also be used to clean the water and provide habitat for fauna.
The number of visitors on any given day will be restricted to allow the pond to regenerate, ensuring that the natural oasis thrives for years to come.