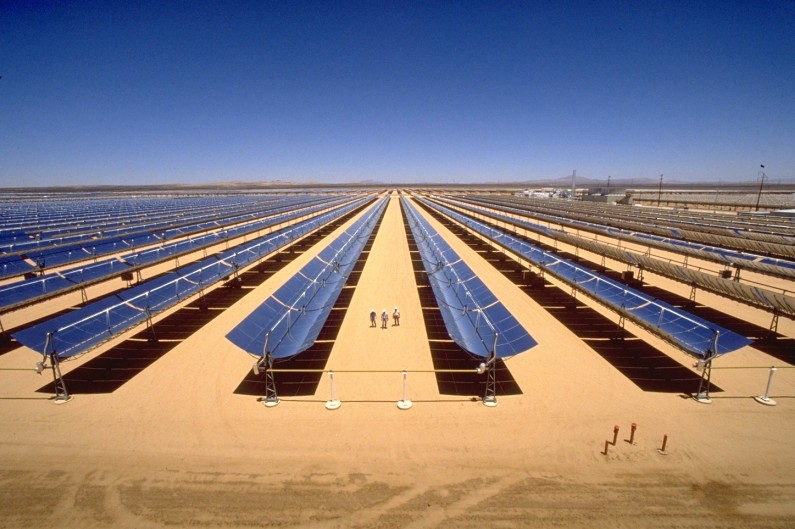 VIA "takepart.com", by Kristine Wong
If the International Energy Agency is right, you just might want to invest in solar company stocks: According to the IEA, the sun could be the world's No. 1 source of energy by 2050.
The agency predicts in two new reports that solar will meet nearly a third of the world's electricity demand, with photovoltaic panels like those found on residential rooftops generating 16 percent of the planet's power. Solar thermal power plants, which use the sun's heat to create steam that drives a turbine, will supply another 11 percent.
Replacing fossil fuels with all that solar energy would avoid the release of 6 billion tons of carbon dioxide by mid-century. That's nearly equivalent to the carbon emissions of all planes, trains, and automobiles worldwide, according to the Solar Energy Industries Association, a Washington, D.C.–based trade group.
"This report reiterates what we already know: Clean, renewable solar energy is poised to meet our electricity needs," SEIA spokesperson Ken Johnson said in an email.
What's driving the solar boom?
China, largely. The country is expected to account for 37 percent of the world's solar capacity by 2050. The rapid expansion of the Chinese photovoltaic panel industry has helped make solar electricity increasingly affordable and competitive with fossil fuels. Solar panel prices, for instance, have fallen 80 percent in recent years, and by 2050, the IEA predicts the retail cost of solar electricity will drop by 65 percent.
In the last four years alone, the world has deployed more photovoltaic systems than over the past four decades. Global capacity stands at 150 gigawatts.
Solar thermal power plants, on the other hand, generate only four gigawatts of electricity today, and the IEA predicts slower growth for that technolog
The SEIA is pushing for a legislative tweak in the tax credit that would make projects that break ground before the expiration date eligible for the subsidy.
"As with any type of prediction, there are many moving parts, but the IEA's call for 'clear, credible and consistent signals from policymakers' is key to transitioning away from polluting energy sources," Johnson wrote.