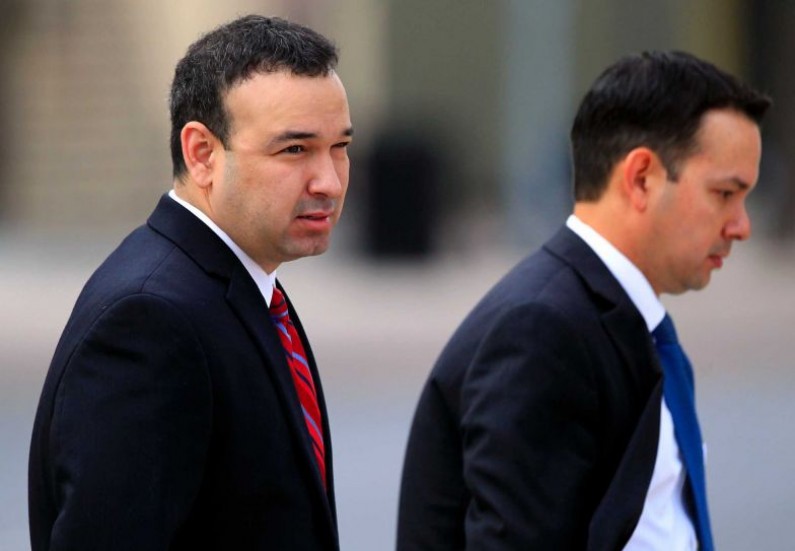 VIA "Rollingstone.com" by Josh Eells:
The temperature was nearing triple digits when Jonathan Treviño strapped on his bulletproof vest, slipped his .40-caliber Glock into his ankle holster and got ready to go to work. It was Thursday, July 26th, 2012, one of those summers in South Texas when the hot air settles on the Rio Grande Valley like a blanket. The Gulf breeze was already sticky as Treviño climbed into his unmarked Chevy Tahoe and started it up.
Treviño was a police officer in Mission, a bustling city of 80,000 on the Texas-Mexico border. Part of a flourishing bilingual metropolitan region with five international bridges, Mission also sits firmly in on e of the Office of National Drug Control Policy's 28 HIDTAs, or High Intensity Drug Trafficking Areas – smuggling hot spots where the federal government spends an extra $240 million a year battling narcotics. Nearly 800,000 pounds of marijuana and several tons of cocaine are seized there every year, on their way to street corners and living rooms all over the country – and that's not counting the stuff that does get through. As the leader of an elite street-level narcotics squad, Treviño was in the middle of the action.
At 28, Treviño was young to be heading up his own narcotics unit. Five feet 10 and built like a second baseman, he had a boyish goatee, a baby face and a habit of rubbing his head when he got confused. But he had good street connections and a solid pedigree, plus a knack for sniffing out drugs. His supervisor joked that they didn't even need a K-9 – they had Treviño.
 He was driving to work when the call came in. An inmate in the county jail had tipped two of his guys to a suspected cocaine stash two towns over, in a little peach-colored house with cactuses in the yard and a vacant lot next door. Treviño turned the truck around and went to meet his deputies, plainclothes cops in T-shirts and wraparound shades, all SWAT-trained and hand-picked by Treviño himself. They were part of a special task force that drew from the county sheriff's office and Mission PD, meaning they had jurisdiction to operate in the city and county alike. Their official name was an interagency jumble (Hidalgo County Sheriff's Office – Mission Police Department Local Level Drug Unit) – but everyone called them the Panama Unit.
When they got to the house, no one was home, so Treviño parked nearby and waited. In his sneakers and khakis, with his silver badge tucked into his shirt, the only indication that he was a cop was his olive-green tactical bulletproof vest, which said police on the front in big block letters. Treviño loved that vest: He'd paid $120 for it at a military-supply store called Green Beret. He could have gotten a police-issue vest for free, but police-issue vests didn't look as cool. "I'd rather spend $120 to at least look halfway decent," he later said.
"Everyone in the streets knew me," Panama leader Treviño says. "We were like a damn gang. We were untouchable."
Still, even without the vest, he wasn't exactly undercover. He also wore a yellow T-shirt – the jersey from the Panama Unit's softball team – with the number 7 and Treviño on the back, and on the front: TEAM JUSTICE.
Around 2 p.m., a black Buick eased into the driveway, and two deputies came whipping up behind in a maroon SUV and leapt out, weapons drawn. "Hands up, motherfuckers!" one shouted. Treviño followed in his Tahoe, the hidden red-and-blue grille lights flashing.
The owner of the house was José Perez, a 62-year-old retired auto mechanic. "Where's the coke?" Treviño demanded. Perez said he had no idea what he was talking about. As one deputy stood watch over Perez and his wife, Treviño retrieved three semiautomatics and took the other deputies inside to toss the house.
Accounts differ about what they found, but in Treviño's telling, one officer noticed something funny about the bedroom floor and uncovered a secret compartment containing a scale and seven baggies of cocaine. (Perez denies this, though federal investigators corroborated it.) Treviño sat Perez on the bed. "You're going to jail," he said, "unless you tell me where some drugs are."
This is standard practice in narcotics work – flipping a small-timer to get a bigger fish. Perez called a guy he knew and said he needed two "workers" – slang for kilograms of cocaine. They set up a 4 p.m. meeting outside Matt's Cash & Carry, a hardware store near the freeway, and Treviño let Perez go.
When the alleged dealer showed up, the Panama Unit arrested him – not for the two kilos, but for the small baggies they'd allegedly found at Perez's house. The kilos they kept and later sold to a connection for around $15,000 each. They also pocketed $25,000 of the suspect's cash, according to the FBI. All in all, $55,000 – not bad for an afternoon's work.
For the past year, Treviño and the Panama Unit had been operating one of the most efficient drug-robbery rings in Texas, taking money from some dealers and traffickers while using their police weapons and police cars to rob others. "These guys were outlaws," one former Hidalgo County deputy says. Adds another, "They were running around like that movie Training Day." They started off stealing ounces of weed and eventually stole so much they attracted the attention of the FBI, the DEA, Homeland Security and the Texas Rangers, not to mention at least one revenge-seeking gang.
The Panama Unit's crimes were a black eye on border law enforcement – especially the majority of officers who are honest cops. The case also raised questions about who is being enlisted and what resources are being devoted to fighting the nation's drug war. Until it was exposed, the unit was seen as an example of what local drug enforcement was doing right. Most incredibly, its crimes were all happening on the watch of one of the most powerful lawmen in Texas and one of the U.S. government's most trusted border advisers: the popular Hidalgo County Sheriff Lupe Treviño, a.k.a. Jonathan's father.
When Mexican drug lords first descended on the Rio Grande Valley 25 years ago, they found a land of opportunity: a rugged corner of Texas marked by sugar-cane fields and chaparral, separated from Mexico by just a thin blue line on a map. The Mexicans were bit players at the time, with the cocaine trade dominated by the Colombians, but before long, one of Mexico's most powerful drug syndicates, the Gulf Cartel, had locked down the South Texas trade and was moving 40 tons of cocaine across the border each year, overseen by its boss, Juan García Ábrego, who maintained a home in Hidalgo County. 
That's about the time Lupe Treviño arrived, too. Lupe had been a cop in Austin, a decorated 14-year veteran who'd done stints in homicide, vice, narcotics and internal affairs. He probably could have made captain if he wanted, but he'd grown up in the valley, and he wanted his sons to grow up there, too. In 1988, Lupe took a job as an investigator for the Hidalgo County DA, and he and his wife, Mary, an elementary-school teacher, bought a nice house on a cul-de-sac where their sons could play.
There were three boys in all: Carlos, the eldest; Chris, in the middle; and Jonathan, the baby. They used to sit at their dad's feet while he got dressed for raids, awed by all his gear. Sometimes they got to tag along, watching from the back seat while Lupe stormed a house. Afterward, they'd gather on the couch and watch videotapes of the busts, like family movies. Chris ended up going into local government, and Carlos works in media, but all Jonathan ever wanted to be was a cop. "And not just a cop," he says. "But narcotics."
After graduating high school in 2002, Jonathan enrolled at a community college and majored in criminal justice, but he flunked half of his classes and dropped out after two years. But then in 2004, his dad – who by that time was the head of the county HIDTA task force, one of the region's top drug cops – was backed by some local power brokers in a run for sheriff. After a hard-fought primary in which he vastly outspent his opponent, Lupe was elected Hidalgo County sheriff. Suddenly, Jonathan's career path looked a whole lot clearer.
A few months after his dad took office, Jonathan started at the sheriff's academy. One classmate remembers him partying his way through, showing up Monday mornings looking rumpled and hungover. "He was an arrogant son of a bitch," says one instructor. "I couldn't stand him." After graduation, he applied for a job at Mission PD, placing near the bottom quartile on his civil-service exam. But his references were excellent – a county commissioner, a sheriff's captain – and in August 2006, Jonathan became a patrolman
He rose through the ranks quickly, making investigator in 2007 and major crimes in 2008. Despite his relative inexperience, when supervisors corrected him, he bristled. "I learned from the best," he used to say. "My dad taught me everything."
The Panama Unit was the sheriff's idea. It was a way to get his son working more or less under him without violating state nepotism laws. The sheriff wanted Jonathan to follow in his footsteps, to be one of the top cops in the state, and leading a narcotics unit was an important step. "Lupe was grooming him," says one federal agent. "The unit was created to help Jonathan climb the ladder."
Jonathan wanted to name it the Spider or Scorpion Unit ("I think because he wanted to sting people," a supervisor says), but his chief demurred. They settled on Panama, after a strain of weed called Panama Red. Jonathan filled his team with his friends – like Claudio Mata, a pal from the sheriff's academy, and Eric Alcantar, a Little League teammate he'd known since they were eight. Officially they had a supervisor for day-to-day issues, but an internal memo made it clear: "The [unit] will directly answer to the sheriff."
Around 2010, the Panama Unit set up shop at an old community center across the street from a Whataburger, where they could work sensitive drug cases in secret. "When they first started, they really meant well," recalls one supervisor. "High-spirited, a lot of energy – we said, 'Wow, they're gonna be really good.' " With the Gulf Cartel at its peak, drugs were pouring into Hidalgo County, and the Panama Unit, says Jonathan, was logging around 40 busts a month. "We were kicking ass," he says. "We were tearing the city apart. We were doing stuff legit and doing damn good work."
They busted several smugglers in high-speed pursuits, sometimes turning up bundles still wet from the river. An episode of the National Geographic show Border Wars cast members of the unit as heroes, executing a raid on a stash house and finding two tons of pot. They also took advantage of generous asset-forfeiture laws to seize some sweet rides for the department: Hummers, Mercedes-Benzes and, for Jonathan, a gray GMC Z71 pickup with monster tires. "We were seizing three or four vehicles a month," he says. "All the investigators were happy because they had these nice new cars."
The crew hung out together in their off hours, having poker night or a barbecue at the sheriff's house. (Lupe made great cabrito.) Jonathan also loved hunting – he and his dad never missed a deer season – and sometimes he'd take the guys to the family's hunting lease. On the weekends, they'd hit the bars – maybe Hillbilly's, with its mechanical bull and live country music, Jonathan's favorite. Sometimes they'd smoke a little pot, but nothing more, at least not for Jonathan. (The Panama Unit evolved over time, and not every officer was dirty. Of the six core members of the crew, two declined to be interviewed and three others did not respond to requests.)
In hindsight, there were some warning signs. On evaluations, Jonathan got high marks for motivation but lower ones for record-keeping and following procedure. Then there was the time his sergeant found out he was rooming with a guy who'd been arrested on a drug charge. The sergeant told a superior, and word got back to the sheriff. A few hours later, Jonathan was on the phone. "Thanks a lot, Sarge," he said. "Now I gotta move back home with my dad."
So Jonathan settled back in with his parents. He didn't pay rent, didn't pay for his meals, and his mom did all his laundry. In the evenings, she'd make dinner – like his favorite, calabaza con pollo – and Jonathan and his dad would sit and talk shop.
Naturally, the sheriff worried about his son. "I did that type of work for a lot of years," he later testified. "There is a lot of danger assigned to it. . . . I used to call him and ask, 'How are you all doing? Are you OK? Are there any problems?' And he'd say, 'We're working on this big thing,' or he'd call and say, 'Hey, we just busted this big thing.' "
The sheriff warned Jonathan to slow down, take it easy. "The drugs are never going to end," he would say. "The drugs will always be there." But he was also proud of his son, and he bragged about him to anyone who'd listen. "My son is the hardest-working narcotics investigator in Hidalgo County," he'd say. Even years later, sitting in a federal prison, Jonathan recalls with pride something the sheriff once told him: "I was good at narcotics. But you're better."
Corruption runs deep in the Rio Grande Valley – one natural result of Mexico's $10 billion-a-year cartel industry and America's $30 billion-a-year drug war. Twenty years ago, a Hidalgo County sheriff was convicted of racketeering and money laundering, and since then other border-county sheriffs have been brought down every three or four years. "Narcotics investigation is a very slimy world," Sheriff Treviño told local newspaper The Monitor in 2008.
But Lupe was different. A former Texas Narcotics Officers Association supervisor of the year, he fired or forced out nine deputies in his first two years and won an award from the FBI for battling public corruption. Even Washington, D.C., took notice, as Lupe made frequent appearances before the Homeland Security Advisory Council, briefing luminaries like Attorney General Eric Holder. In 2009, then-Homeland Security Secretary Janet Napolitano announced a new Southwest Border Task Force, a "diverse group of national-security experts" charged with formulating policy. The chair was a former director of the FBI and the CIA, and one of the vice chairs was a former White House chief of staff and ambassador to Mexico. The other vice chair was Lupe Treviño.
"I knew they would come after me," says Treviño. "I always thought it was going to end in a shooting, them or me."
"You'd really have to live down here to know how powerful my father was," says his son Chris, an operations administrator for Hidalgo County. "There's no professional sports teams, no movie stars. Down here, it's all politics." The sheriff was a master politician, using his influence to win increased budgets and bigger grants. He secured more than $10 million from Operation Stonegarden – a $55 million-a-year Homeland Security grant program that enables local law enforcement to purchase SWAT gear like night-vision goggles and $350,000 B.E.A.R.'s, or Ballistic Engineered Armored Response trucks. ("It's a real neat vehicle," the sheriff said.) There were also grants from programs like Operation Linebacker and Operation Border Star, multimillion-dollar state initiatives designed to beef up border police forces.
With his salt-and-pepper mustache and crisp khaki uniform, Lupe cut a dashing figure around Hidalgo County. He favored custom-made boots and expensive rifles, and he kept eight whitetail buck heads mounted in his office. He came from humble roots – the eldest son of a welder who died falling from a roof when Lupe was a teenager, leaving Lupe and his mom to raise his six brothers and sisters in their one-bedroom house. And Hidalgo County loved him: In his first re-election, he ran unopposed.
"There's something about a Texas sheriff," says a federal agent involved in the Panama Unit investigation. "I don't know if it's the hat or what – but they really embody that whole I-am-almost-God-type thing." Lupe certainly did, patrolling the county with a gold star on his chest and an AK-47 on his front seat, radiating swagger. Deputies nicknamed his internal-affairs bureau "the Gestapo," and in his most recent re-election, he won 80 percent of the vote. At his victory party at a local Mexican restaurant, he boasted of his achievements and spoke of the challenges ahead. "If anything is gonna kill us, it's internal corruption," he warned. "Because some of our folks can be bought."
For the Panama Unit, it all started with some stolen cash and a bulletproof vest.
It was shortly before Christmas 2010. Around 2:45 in the morning, Treviño, Alcantar and Mata pulled over a drunk driver in a pickup and noticed some white residue in his mustache. Searching the car, they found a few ounces of cocaine and a plastic bag containing $50,000. "We asked him whose money it was, and he said he didn't know," recalls Treviño. "We just figured, 'We can get away with it, we're among friends, get a little extra money for Christmas – fuck it.' " Mata took three bundles, totaling $9,000, and hid them in his vest. They split it up later at Alcantar's house, because Treviño was living with his parents.
It wasn't long before the Panama Unit graduated to stealing drugs. It was easy: They'd do a legal search, find some coke or dope, and just . . . not turn it in. They were careful to mark the drugs with evidence tags, in case they ran into other cops before they'd unloaded them. There were various local dealers they sold to – $15,000 a kilo for coke, $150 a pound for weed, and meth for $1,000 an ounce.
But as the Panama Unit stole more and more drugs, they needed a bigger connection to sell to. That's where Fabian Rodriguez came in. A clumsy, overweight deputy who worked at his uncle's tire shop before joining the sheriff's office, Rodriguez was assigned to Hidalgo County Crime Stoppers, the anonymous hotline 668-TIPS, which gave him access to a lot of potentially valuable information. But what he really wanted was to join the unit for real, so he tried to impress Treviño by hooking him up with a buyer he knew, a drug trafficker named Fernando Guerra.
Guerra and his son Fernando Jr. ran a trucking company that was contracted to move loads originating from the Gulf Cartel. Mexican smugglers would get the drugs across the river, and the Guerras would drive them north from there. "Every time you cross a barrier, the drugs increase in value," says Ildefonso Ortiz, a local reporter who covers drugs and the border. In this way, a middleman could take a $200 pound of marijuana and turn it into an $800 pound.
The Guerras also had a side hustle, which was ripping off fellow traffickers. "In Mexico, you wouldn't dream of ripping a load," Ortiz says, "but here, it's more of a free-for-all." The Panama Unit were their perfect match: They became the Guerras' drug-thieves-for-hire. For their first job, in May 2012, the unit stole a half-ton of pot from an 18-wheeler and were paid $14,000 each. Pretty soon, they were doing jobs nearly every month.
Treviño got an apartment in one of the nicest complexes in town, with three flat-screen TVs and a balcony overlooking the pool. He had a closet full of Polo and Hugo Boss, and he took frequent trips: to nearby South Padre Island, the horse track in San Antonio, Tim McGraw concerts in Houston and Cowboys games in Dallas. When the unit ate dinner together, Treviño would treat, and even when the bill topped $2,000, he paid cash. "I always carried about $10,000 in hundreds," he says.
Around their families, though, they downplayed their newfound wealth. "We'd play poker, and they would all pull out the minimum amount," says Treviño's brother Chris. "They concealed it very well."
As the Panama Unit started making more and more cash, their partying got wilder. They'd hit Stilettos, the high-end strip club in town, and drop $10,000 in the VIP room. ("They made it rain," one former deputy says.) There were visits to escorts and prostitutes. Once a month, they drove to Louisiana to gamble at the casinos, and after a really big score, they'd fly to Vegas and rent a suite at the Bellagio. Treviño also had bookies he bet with locally – mostly football and baseball games, at $5,000 a pop. "It was an addiction," says Chris. He lost more than he won, which only encouraged more rip
Cash seized by the Panama Unit
Sometimes this led to some imprudent decisions. One of the bookies Treviño bet with was a teacher who sold Ecstasy on the side. He didn't know Treviño was a cop. Treviño owed him money, so they arranged to meet at a Petco parking lot to settle up, but when the teacher arrived, members of the Panama Unit jumped out. Treviño claimed his gambling was all part of an undercover op. "He was crying so hard," he says. "I felt bad." The teacher paid Treviño $15,000 to let him off, and they never heard from him again.
By 2012, word was getting around that the Panama Unit might be dirty. Dealers were starting to talk: Crooked cops were one thing, but they shouldn't go around stealing your shit. Other cops saw red flags too – like how the unit occasionally called in an operation after the bust, instead of before. One local chief told his officers not to work with the unit. Sometimes when a robbery call came in to the sheriff's office, deputies would joke: "Have you checked Panama?"
But the Panama Unit almost seemed to enjoy their reputation as bad cops. They had a certain outlaw cool, like Omar from The Wire, ripping and running. They decorated their office with posters – marijuana plants, Bob Marley, Tupac – and wore polos with their logo printed on the chest: a silhouette, in the dark, kicking down a door. "Everyone in the streets knew me," Treviño says. "We were like a damn gang." He says dealers called his white Tahoe "the Ghostbuster" and him Estrellita – "The Little Star."
Eventually, it got to where stealing wasn't even exciting – just routine. "The adrenaline rush came on the legit busts, when we were kicking down doors," Treviño says. "But with the illegal stuff, we had gotten away with it, and we were going to continue getting away with it. I just felt like we were untouchable."
In the summer of 2012, Special Agent J.P. Reneau was working on a different case. Reneau was an agent in the Hidalgo County office of Homeland Security Investigations, the investigative arm of Immigration and Customs Enforcement. HSI's purview includes human trafficking, money laundering, gun running and cybercrime, but at the border it mostly works drugs. A soft-spoken Texan with a cowboy squint, Reneau looked like a young James Caan, with dusty-blond hair he wore slicked back. He drove a Chevy Silverado and had a reputation as a bit of a maverick. Some colleagues complained about his "high operational tempo"; one agent later said, "We wanted him to grow up a little."
Reneau had been an HSI agent for four years, during which time the federal government had spent about $60 billion on drug enforcement. In early July, he was chasing a tip from a source about a marijuana shipment northeast of town when, for various reasons, the operation went south and one of his agents ended up getting shot in the back. The agent survived, but in the shitstorm that ensued, Reneau learned that his source, a bail-bondsman-turned-drug-trafficker, was conspiring to steal rivals' loads. He was affiliated with the Guerras and, through them, had loose ties to a rogue group of cops called the Panama Unit.
HSI knew it had to tread carefully. "In a community like that, law enforcement is small and tightknit," says Janice Ayala, the special agent in charge of HSI's San Antonio field office. "You start asking questions, and somebody's going to hear very quickly." To complicate matters further, one Panama cop, Alexis Espinoza, was actually assigned to a Homeland Security task force in a cubicle literally steps away. "On one side of the hallway were my case agents," an HSI group supervisor says, "and on the other side, Alexis is sittin' right there."
Espinoza wasn't officially in the Panama Unit, but he did a lot of jobs with them. "Alexis was more of a follower – definitely not Type A," one of the agents said. He and Treviño had been friends since they were five: Espinoza's father, Rudy, was a captain at the sheriff's department. He and Treviño had joined Mission PD within months of each other: Treviño was badge No. 363, and Espinoza was No. 369.
When Sheriff Treviño was busted for corruption, he blamed his son. "I forgive Jonathan. But I'm in prison because of him."
"When you're building an investigation, you're going to use different tactics and strategies," says an HSI agent. "In this case, they were so brazen that there was enough to go operational quickly." Reneau and his agents started surveilling the Panama Unit, mapping out their connections and routines. The DEA and Texas Rangers also got involved, and the FBI recruited a sheriff's deputy to wear a wire. Treviño suspects that the feds even got one of his cousins to talk. "That actually caused a pretty big rift in our family," says Chris. "My grandma still doesn't speak to that cousin."
Meanwhile, the Panama Unit was getting paranoid – not about cops, but about drug dealers. Treviño wasn't afraid of the cartels themselves: He was smart enough not to step on their toes. "Not every dealer in the Valley runs with a cartel," he says. "So the more independent ones, you could go after them safely." Also, if they did ever accidentally jack the wrong stash, he had "friends on the other side of the border" who could take care of him "in case shit hit the fan." He adds, "It's like a business. You have to go through a chain of command. So I had people up the chain who could put a stop to it."
But local gangs were a different story. The Panama Unit always justified their rips by saying they weren't robbing innocent people, only drug dealers. On the other hand: They were robbing drug dealers. Retaliation is a risk even in legit narcotics work – one former deputy recalls officers being posted outside the Treviños' house following a threat against Jonathan back when the unit was clean – but since they'd started ripping loads, the threats were coming with alarming frequency. A local street gang called the Tri-City Bombers allegedly put a hit out on Treviño that he was able to get called off. (He says he knew a high-ranking lieutenant.) Later, a member of the Partido Revolucionario Mexicano, a Texas prison gang affiliated with the Gulf Cartel, called the sheriff's office and threatened to kill "every fucking family member he has." To most people, it sounded like another pissed-off gangbanger – but to Treviño, it seemed like his life might be in danger.
Treviño had stockpiled a small arsenal at home – pistols, M4s, AK-47s, – and he started packing everywhere he went. The Panama Unit began traveling in groups, never alone. "I knew they would come after me on the street, not at work or my house," Treviño says. "But it was going to end in a shooting, them or me. I always thought that."
In October, the Panama Unit got a line on a new connection. There was a madam they used to frequent who called herself Betty, a Mexican woman with platinum-blond hair who bused in prostitutes from across the border in Monterrey. She'd heard the stories a lot of people had, about Panama and drugs. One night she asked the unit for help.
At the time, Treviño was growing disillusioned with the Guerras. They didn't pay enough – he wanted market rates – and at times their jobs took too long to come through. One deal was frustrating Rodriguez in particular: There was supposedly a big cocaine shipment they were going to steal, but the sender was a big believer in the black-magic-heavy cult known as Santa Muerte, and he kept consulting a witch who told him the timing for delivery was no good. The deal dragged out for months. Every so often, an exasperated Rodriguez would call for an update: "So what did the witch say? Can they bring the drugs in or not?"
Thus Treviño was understandably enthusiastic when Betty asked if the unit would start escorting cocaine for her employers.
"Escorts have been around forever," says a local police chief. "Corrupt cops have been doing that for a long time." The way they worked was a couple of unmarked Panama vehicles would drive behind and in front of Betty's shipments, protecting the load from any bad guys and stepping in if any good guys showed up. Escorting didn't pay much, especially compared with the rips. But the unit had a bigger plan in mind: They would use Betty's connections, working loads and building trust, until they got one valuable and vulnerable enough to rip off.
In other words: They were now going to start robbing the very traffickers that were hiring them.
That fall, the Panama Unit escorted five loads for Betty. Meanwhile, they were also hearing rumors of their own. One of the guys got an anonymous call saying the feds were looking into the unit, and they should stop whatever they were doing. One of their moms heard the Texas Rangers were investigating them as well. During a gambling trip to Louisiana, the Panama Unit agreed to do one last job and go straight.
Soon, Betty got in touch about a new escort: 10 kilos of coke, with a wholesale value of around $200,000. Together, they all decided to rip it. The job was set for December 12th, 2012, but when the day came, Treviño had a bad feeling. "All morning Betty kept calling," he says, "and I kept pressing 'ignore, ignore, ignore.' "
Still, he went. There were three of them on the highway: Treviño, Espinoza and another Panama deputy named Sal Arguello. The plan was to steal the coke, give Betty $40,000 and split the rest – "easy deal," Treviño says. Around 11:30 a.m., they pulled Betty over and popped the trunk on her black four-door Kia to reveal a large box wrapped like a Christmas gift in red candy-cane paper. Jonathan opened it to find 10 bricks covered in black tape. But when he picked one up, he felt something attached. He removed the tape, and that's when he saw it: a small battery-size device with wires and a bar code on the side. A GPS tracker.
At the time, the sheriff was a few miles away, holding a press conference at the scene of a shooting. He'd just gotten back in his truck when a call came on the radio from the Panama Unit asking for assistance. Recognizing his son's voice, the sheriff asked what was going on. Seconds later, his cellphone rang. "We have a situation," Jonathan said.
When the sheriff arrived, he knew right away that it was bad. "I've been doing this for over 40 years," he later testified. "It was pretty obvious to me what the deal was. It wasn't to them, because they're very young, very stupid, inexperienced. But it was obvious to me."
What was obvious to him was that the Panama Unit had stumbled into a trap. Betty was an informant all along – "loaded up in a government vehicle with government cocaine," as Espinoza's lawyer later put it. She'd been recruited by HSI to set up Jonathan and his crew. The Panama Unit had just been stung.
Jonathan tried to cover himself and said they pretended to go along with Betty's bribes as part of an investigation. "Are you lying to me?" the sheriff demanded. Jonathan swore he wasn't. The sheriff then asked Betty which federal agency she was working for. Betty became hysterical, claiming that the drugs belonged to the Sinaloa Cartel and that they needed to get out of there before they got killed. "She put on a heck of a good act," the sheriff later testified. "I mean, she was really crying and carrying on."
Lupe told a unit to take Betty back to the sheriff's office. Then he called his contacts at the FBI and the DEA. There were two possibilities, he told them. "Either the Sinaloa Cartel really is tracking these things, and we've got a problem . . . or these are your GPS units, and you need to . . . do what you have to do."
"I was proud of the work we did," says Jonathan Treviño. "I felt accomplished getting 4,000 pounds of dope off the street, even if we put 1,000 pounds back on it."
Back at headquarters, Lupe met with the feds, as they laid out their case against the Panama Unit. Then he called his son into his office. He told him he had been the target of a federal investigation, and that he'd need to turn himself in. Choking back tears, the sheriff then asked for Jonathan's badge and gun. "He was devastated," Jonathan says. "It crushed his heart."
They spoke only briefly before Jonathan had to go meet with his lawyer. But on the ride home that night, Lupe told his son he loved and supported him no matter what. They walked in the house to find Jonathan's mom waiting, and both father and son burst into tears. "I had never seen my dad cry," says Chris. "He was balled up on the couch crying like a baby, and Jonathan was crying right there on the other couch."
The news of the Panama Unit rocked Hidalgo County. In all, nine officers associated with the crew were indicted, and the DA announced he was throwing out as many as 75 cases: "Their credibility went from absolute to zero," he said. At a "Coffee With the Sheriff" event at the Country Omelette restaurant a few months later, Lupe called the day the Panama Unit was busted "my 9/11": "On that day, it was said that America would never be the same," he said, according to The Monitor. "After 12/12, the Hidalgo County Sheriff's Office will never be the same."
It wasn't long before suspicion fell on the sheriff. After all, Jonathan had lived at home for years. Could Lupe – the veteran narcotics investigator – really not have known what was going on? Either he was a terrible cop or he was covering for his son. At the trial of a deputy accused along with the Panama Unit, one lawyer asked, for instance, why Jonathan's free-spending ways never raised alarms. "He was making quite a bit of overtime money," the sheriff said, pointing out that for much of the time, Jonathan lived at home rent-free. "I had no reason to question what he was doing."
Publicly, the sheriff was adamant. "I'll say this until I am blue in the face," he told The Monitor. "I had no knowledge about the criminal activities of those individuals, nor was I complicit in those activities." He compared himself to a cheated-on husband: "They may live under the same house, share the same bed, share the same finances – but the spouse is always the last to find out." About the feds, he added, "I want them to investigate me. I want them to take a good look."
As it turned out, the sheriff would get his wish. Further investigations revealed that Lupe was receiving money from a local drug lord named Tomas Gonzalez – a.k.a. El Gallo, "the Rooster."
El Gallo was like a real-life version of Gus Fring from Breaking Bad. He owned a cold-storage company, T&F Produce, whose logo was a chicken, and which he used as a front for his drug-smuggling operation. He and his logistics coordinator (who moonlighted as the coach of a girls' basketball team) would pack marijuana and cocaine in tractor-trailers full of vegetables and ship them all over the country: Arkansas, Tennessee, North Carolina, even as far north as Iowa. A well-known narco-corrido singer named Chuy Quintanilla sang of El Gallo's exploits:
He's a real man with the blood of a fine gallo
And his people admire and respect him
He doesn't like violence; he'd rather use his head
But if necessary, he can use a machine gun
El Gallo was rumored to have ties to the Zetas, the terroristic Mexican cartel currently locked in a bloody war against their rivals in the Gulf Cartel. Two of his brothers were in prison in the U.S., and his mother supposedly died in prison in Mexico. He'd been on Reneau's radar for more than two years, and once escaped a bust in a chase at 115 mph. But he wasn't the type to keep a low profile: On the gates outside his mansion in the sugarcane fields east of town were two ceramic roosters, right next to the signs that read re-elect Sheriff Treviño.
The sheriff swore he'd never met El Gallo. Yes, he'd been to his property twice – once to investigate the signs, which he said were fake, and once to investigate a triple murder at a cockfight elsewhere in the county (El Gallo's dad was a big cockfighting enthusiast). But he'd never met the man. "I'll take a polygraph," he told the feds, according to his son Chris. "I don't even know what the fuck he looks like." But when an investigation turned up $10,000 in illegal campaign contributions from El Gallo, the sheriff was sunk. In March, he resigned, and in July, he was sentenced to five years for money laundering.
Lupe ultimately admitted to accepting between $20,000 and $25,000 from El Gallo. A sheriff's commander, who was himself convicted of bribery, claims it was more like $1 million. The cash was delivered in paper bags, fives, tens and twenties. At his own sentencing in November, El Gallo – who, to be fair, stood to earn a reduced sentence by implicating the sheriff – said he gave Lupe $53,000 for a new fishing boat and $40,000 for a trip to Vegas. The sheriff supposedly referred to El Gallo as "Eastside" and cautioned against calling him on a work phone. (El Gallo preferred Boost Mobile burners.) El Gallo said the person who first introduced him to the sheriff was Chuy Quintanilla, the narco-corrido singer – who, the previous year, had been found murdered in a grapefruit orchard.
Citing a pending appeal, Lupe declined an interview. "My denials of those allegations that cannot be verified or corroborated are a matter of record," he said in an e-mail, noting that many additional claims were made when he wasn't present to defend himself.
Lupe's defenders insist that his crime was, at worst, a campaign violation. "[They] sentenced him because of his son," said the Hidalgo County DA, one of his oldest friends. Chris agrees: "If it wasn't for the Panama Unit, they never would have been combing through his campaign-finance reports. Jonathan brought all the attention on him."
Although no one knew it at the time, the sheriff was considering a run for Congress. Recently, he e-mailed Chris from prison in Florida, where he's serving five years. "He said, 'I worked so hard in my 42 years of law enforcement, and it was all wiped away because of what Jonathan did. I forgive Jonathan – but I'm here because of him.' "
On April 25th, 2014, Jonathan Treviño celebrated his 30th birthday. Four days later, he and the rest of the Panama Unit arrived in federal court for sentencing on drug conspiracy charges. The right side of the gallery was filled with family and friends, including Treviño's girlfriend, a middle-school vice principal. The left side was filled with federal agents.
The proceedings stretched over two days, with most sentences ranging between 10 and 14 years. Treviño, who was sentenced last, was represented by a defense attorney named Bobby Joe Yza-guirre, whose previous clients included two ex-chiefs of the Gulf Cartel. The $120 bulletproof vest that Treviño had been so proud of ended up coming back to haunt him: The judge imposed an extra penalty for using body armor in a drug-trafficking crime. In the end, he got 17 years.
On a crisp autumn day at the beginning of November, Treviño shuffled into the visiting room of a federal prison in an Eastern state that he requested not be named. He wore Nike sneakers and a khaki jacket and work pants – sheriff's colors – and his thick black beard was flecked with gray. He sat at a small table, a little hunched, and asked for some snacks from the vending machine: a tuna sandwich, potato chips and a can of Dr Pepper.
Treviño wanted to make it clear that he never informed on anyone outside the unit, on either side of the law, partly out of concern for the safety of his family. He noted with pride how he stood up in court and took his punishment like a man. He said he was grateful to the feds who arrested him – "as weird as it sounds" – for stepping in before anyone got hurt or killed. And he forgave the people he says ratted on him, including the rest of the Panama Unit. "Even though they turned on me in open court, I would still take a bullet for these guys."
Chris thinks if his brother had come clean earlier, he might have been able to work out a deal. "My dad would have turned him in immediately to the feds and said, 'My son will cooperate,' " he says. "He had plenty of outs, and he didn't take any of them." But he says the sheriff also bears some responsibility. "The unit didn't have any supervision whatsoever," says Chris. "And to be honest, I blame my dad for that."
But according to Jonathan, the thought of confessing never crossed his mind. "I couldn't," he says. "My dad would have been so disappointed."
Prison could be worse for Treviño. He has a fantasy football team and can use the bathroom without permission. With good behavior, he could get out in his early forties. And though the government seized the cash he had hidden in his safe, he says, he also had two more hiding places they don't know about.
In the meantime, he misses being a cop. "I enjoyed my job so much," he says. "I loved waking up, going to work, getting busts. Even doing crooked stuff, I was proud. Five-thousand-pound dope busts? Some narcotics officers will never get that in their careers. So I felt accomplished knowing we got 4,000 pounds off the street – even when we put 1,000 back on it."
There's a new sheriff in Hidalgo County now. Before he took office, he had to sign a pledge that he was never "in any way associated, directly or indirectly, with the Gulf Cartel, the Zetas, the Sinaloas or anybody else." On the border, the violence continues: The same day the Panama Unit arrived in court for sentencing, 14 people were gunned down a few miles away in Reynosa, two of them federal policemen. A few months later, the Hidalgo County Sheriff's Office received a new grant from Homeland Security's Operation Stonegarden: $4.7 million – its biggest ever.