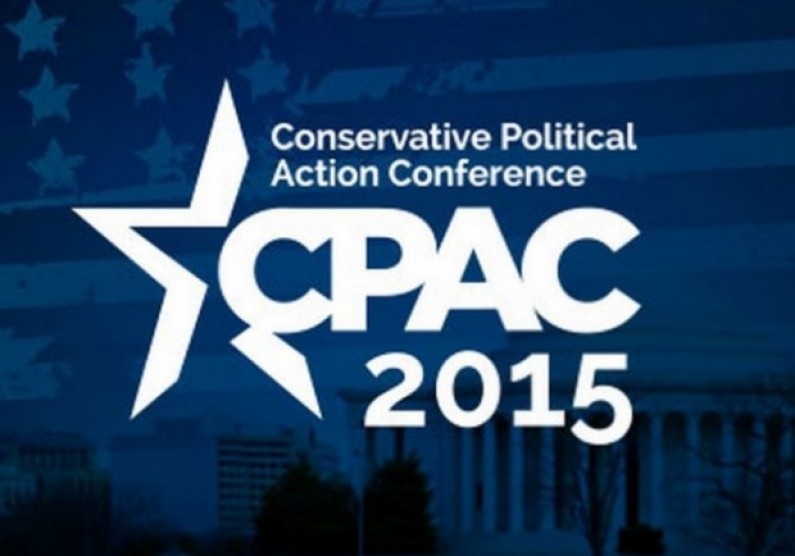 VIA "thehill.com" by Jessica Taylor, Jonathan Easley, and Cameron Joseph
The three-day Conservative Political Action Conference (CPAC) drew to a close Saturday after nearly all major contenders for the GOP's 2016 presidential nomination made their pitches and plays to the activist crowd.
Just under a year out from the Iowa caucuses and the New Hampshire and South Carolina primaries, the conservative confab gave observers an early glimpse into what to expect between now and then.
Here are five major takeaways from CPAC 2015:
The Scott Walker boomlet is real
The Wisconsin governor arrived at CPAC after a week of gaffes and dodges when asked about President Obama's patriotism and religion. But to the conservative faithful at National Harbor, Md., this weekend, his counter-punches landed right on target.
Walker gave a well-received address on Thursday, talking up his record of taking on the unions in his state, but also reminding the audience of his social conservative bona fides.
His performance didn't have the same fervor as his acclaimed speech last month to the Iowa Freedom Forum, but it didn't matter. Walker's CPAC straw poll placing — a close second behind the favorite Sen. Rand Paul (R-Ky.) — shows he got the most bounce out of the event. His showing was especially impressive given that he lacks the organizational muscle of the likes of Paul and former Florida Gov. Jeb Bush (R), who finished fifth.
Walker did have one slip up, when he said that the fact that he took on unions meant he could also take on the Islamic State in Iraq and Syria (ISIS). His team quickly clarified, but the flap could portend future problems for the governor in how he talks about national security and foreign affairs.
Overall though, Walker's straw poll silver medal says a great deal about his ability to excite and unite conservatives and the GOP establishment — something no other candidate has been able to do.
Jeb Bush has a conservative media problem
Jeb Bush's problem with influential conservative media talkers was on full display at CPAC.
Bush is a frequent punching bag for the conservative radio show hosts that have the ears of tens of millions of grassroots voters. Many of those personalities blasted Bush in front of the grassroots crowd and along the "radio row" outside the conference hotel's main ballroom.
Laura Ingraham took the stage just hours before Bush on Friday and slammed him on immigration. She also warned against a "coronation," and even went after Bush's wife, Columba, for media reports that have highlighted her expensive taste in jewelry.
Then, in an interview with The Hill on Saturday, Mark Levin said Bush is "as radical on the issue of amnesty as Obama" and argued that the country doesn't need another "dynasty."
Dana Loesch, a television host at The Blaze, branded Bush the "granddaddy of Common Core" and said he's "shown no willingness" to appeal to conservative voters.
Those are messages that prominent conservative talkers are feeding their listeners every day. And that spells big trouble for Jeb.
Rubio's repentance isn't enough 
The stakes were high for Sen. Marco Rubio (R-Fla.) going into CPAC. The onetime Tea Party darling, who burst onto the stage with his 2010 Senate victory, was hailed in 2013 by Time magazine as "The Republican Savior" and nearly upset Paul that year in the CPAC straw poll.
But following his support for the Senate's comprehensive immigration reform bill, his support with the base cratered, and he fell to seventh place in the informal survey last year.
This year's CPAC was supposed to be his comeback as he tests the presidential waters.
Rubio seemed to be well-received Friday morning, telling attendees he had learned his lesson on immigration.
But the straw poll results didn't show attendees took him at his word. Rubio placed seventh again, this time drawing just 3.7 percent support.
If Rubio wants to have a shot in the crowded White House field, he has to mend fences with the conservative base on immigration. That didn't appear to happen this weekend.
Chris Christie is still struggling to find his footing
Of all the 2016 hopefuls, New Jersey Gov. Chris Christie's (R) address on Thursday was one of the least memorable. He chose to be interviewed by Ingraham, sitting down for an exchange that had more of a fireside-chat feel than the red meat roof-raisers typical at CPAC.
Even Bush, who also chose the same interview format, stood and paced the stage with Fox News host Sean Hannity during a Q&A session that had a more engaging vibe than Christie's.
Christie dismissed the spate of bad press he's gotten and said it's far too early to write him off, which is true. His jabs at the New York Times got applause and he didn't have any obvious missteps. But the usually forceful governor got lost in the crowd — and he's in danger of having the same thing happen in the coming months.
Christie wasn't invited to CPAC in 2013 following his embrace of President Obama just ahead of the 2012 elections. In 2014, under fire for the 'Bridge-gate' scandal, he came and performed well, even finishing fourth in the straw poll. This time, he barely registered with 2.8 percent — behind even Donald Trump.
Carly Fiorina could be an early VP favorite
Businesswoman Carly Fiorina didn't generate the loudest buzz at CPAC of the likely 2016 contenders. But her broadside against former Secretary of State Hillary Clinton was notable, making her the only would-be candidate to focus more on Republicans' likely future foe rather than training her ire on President Obama.
The attack lines drew powerful applause from an audience mostly in the room to hear from other, bigger names. Fiorina therefore may have done herself the most long-term good — even if it didn't translate into success in the CPAC straw poll, where she drew only three percent and finished ninth.
Nonetheless, her rousing speech was in itself an impressive feat for the former Hewlett Packard CEO and failed California Senate candidate.
Conservative strategists say her strong performance could portend big things to come, and at the least put her high on the vice presidential shortlist, especially for a party badly in need of diversity.