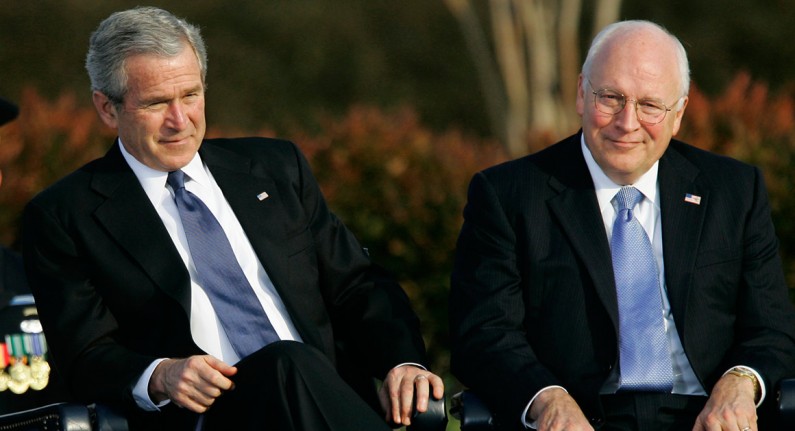 VIA "theantimedia.org" by Cassius Methyl
(ANTIMEDIA) Venezuelan President Nicolas Maduro recently announced that VISAs are now mandatory for US citizens visiting the country.
He also banned George W. Bush and Dick Cheney from Venezuela, among other American politicians, calling them terrorists for their war crimes.
The new measures were aimed that those who "violated human rights and bombed villages as in Iraq, Syria and Vietnam."
An article from RT says,
"Former US President George W. Bush, former Vice President Dick Cheney, and Republican Congress members Ileana Ros-Lehtinen, Robert Menendez, and Marco Rubio will be denied visas into the country, labeling Bush and Cheney as "terrorists.""
 The Venezuelan president is also trying to reduce the number of US military personnel stationed at the imposing US embassy on their land.
"In order to protect our country…I have decided to implement a system of compulsory visas for all Americans entering Venezuela," the president said in a speech.
He also said that Americans were arrested in Venezuela for "espionage activities."
"We have captured some US citizens in undercover activities, espionage, trying to win over people in towns along the Venezuelan coast," he continued.
In February, the president of Venezuela accused the US of trying to overthrow the new government, and the accusations went almost completely unnoticed.
"The northern imperial power has entered a dangerous phase of desperation, going to talk to the continent's governments to announce the overthrow of my government. And I accuse Vice President Joe Biden of this," said the Venezuelan leader.

If you know your history, you have a good grasp on the probability of this being true. It seems quite likely that the accusations made by Maduro were true or had a foundation of truth.
Please share this with as many people as possible. This is a piece of the geopolitical puzzle, and it was almost completely swept under the rug.