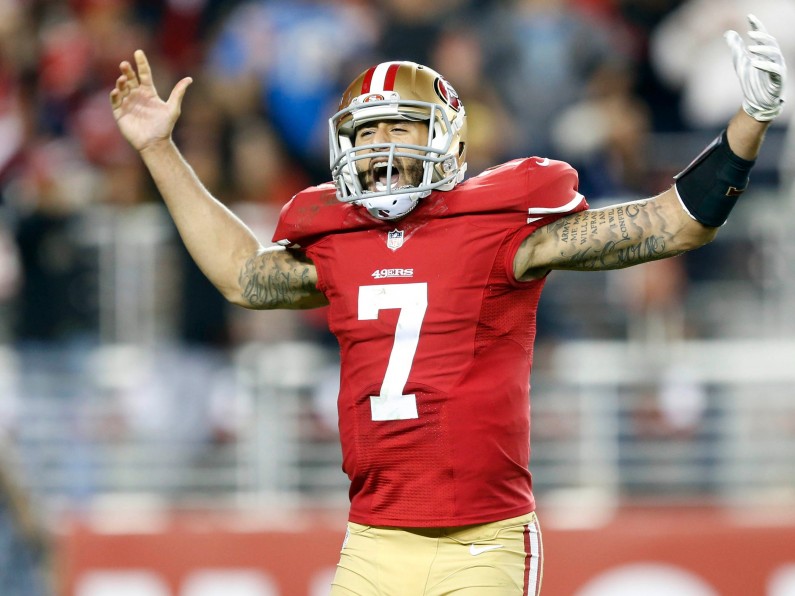 February 3rd, 2013: The San Francisco 49'ers were 9 yards away from a go ahead touchdown to win SuperBowl 47. Led by second year quarterback Colin Kaepernick, a ferocious defense and the league's best offensive line, the Niners were the best team in football.
November 8th, 2015: A measly San Francisco team squeaked out a one point victory to improve to a disappointing 3-6 record.
Conventional knowledge would say to look at the quarterback as the catalyst for this downfall – this is because an NFL QB is the most important position in sports and his success has the most direct effect on the fate of his team. However, there are exceptions to this rule.
These are 5 reasons why you CAN'T blame the 49's failure on Colin Kaepernick.
#1: Unexpected Retirements
A well run franchise can predict and prepare for a player's decline and eventual retirement. Each position has a typical shelf life and general managers and personnel directors get an idea of how long a player will be effective for. When someone retires early & unexpectedly it can cause a problem with the construction of the roster. The 49'ers experienced this twice in the 2015 offseason and it cost them two young pro bowl caliber players.
2014 was a huge year for rookie linebacker Chris Boreland. He quickly shook concerns about his size (5'10 237) and displayed some of the best defensive instincts seen in years. In just 14 games he amassed over 100 tackles and provided reinforcements for a defense dealing with injuries to longtime stalwarts Navarro Bowman and Patrick Willis. Soon after the close of the 2-14 season Boreland, who had become recognized as one of the league's next defensive stars, called it quits due to concerns about potential future head injuries. Losing a 23 year old who contributed at a high level and was thought to be a major contributor for many years to come gives GM's nightmares.
Fortunately, what went on with Chris Boreland is pretty rare.. Unfortunately, the Niners experienced this again a few months later when Right Tackle Anthony Davis decided to retire. Davis was only 25 years old and had started every single game since he was a first round pick. He talented project when he came into the league and his play had improved every year, making him one of the better Right Tackles in the game. The timing of his decision, in June, left San Francisco reeling as the draft was over and most free agents were already signed.
The subsequent fallout from these two surprise retirements have caused instability for the team this whole season. While not completely unheard of, these TWO early retirements were a major factor in negatively impacting the niners roster & has taken its toll on the team.
#2: Legal Issues
As previously mentioned, the backbone of the 49er's success in the early part of the decade was their defense. However, in the last year and a half they've lost two contributors due to legal troubles. Defensive End Ray McDonald and Rush Linebacker Aldon Smith were starters who combined for 65 sacks in their tenure with the organization. While Smith had a history of questionable off-field decisions, the incidents McDonald experienced were the first issues he had in his six plus year career.
McDonald was a third round pick in 2008 and had developed into an above average starter. His ability to be able to generate pass rush while still using his 6'3 290lb size to stop the run was paramount to his success in San Francisco's 3-4 defense. Starting in the spring of 2014, a series of domestic 911 calls ensued which led to the eventual release of McDonald in late 2014. While not a mainstream star, McDonald was the type of solid contributor that comprises the backbone of any successful team.
Smith was a first round pick by the team who coming out of college was known as a wild man. The Niners took the risk on his extreme talent in selecting Smith over current All-Pro and grade A citizen Robert Quinn. While many criticized this pick, it immediately paid dividends when Smith tallied 33.5 sacks in his first 2 seasons. Unfortunately, soon after his arrival to the Bay, legal problems started to arise. Beginning with an arrest for DUI in 2012, a downward spiral started that included Smith being stabbed at a house party he hosted where 2 were shot, screaming about him possessing a bomb in an airport, and a third driving while intoxicated infraction. The 49'ers went on to release Aldon Smith prior to the 2015 season. For many, Aldon Smith was viewed as a cornerstone of the franchise for the next decade – his 6'6 frame and long arms made him a terror off the edge. His demise was a critical blow.
The NFL is full of trouble makers and while the notion of a team having to lose a player due to conduct issues is not unheard of, the idea of losing TWO contributors (especially one being among the best young players in the game) is another important but overlooked reason for the team's recent decline.
#3: Defenses Caught Up To The Read Option
We all remember the story of the 2012 Colin Kaepernick, a man who took over for an injured Alex Smith and used his feet to march all the way to an NFC championship. The playoff game in particular where he was consistently baffling All-Pro Linebacker Clay Matthews with a medley of option runs stands out in particular. The read option is a simple offensive philosophy that relies on a multi-talented quarterback reading the edge defender with a simulated hand off. If the defender follows the running back the QB pulls the ball and runs to the outside. If the defender comes up the field to play the QB, he hands the ball to the running back. A college football play that has stymied defenses for decades that only few can execute at the NFL level. Unfortunately for Kaep, the combination of super savvy NFL D-Coordinator's and speed of defensive players allow pro defenses to quickly figure out these gimmicks. Systems like the Wildcat and Read Option have been historically unable to transition from successful & exciting schemes to long term offensive assets.
The rise and fall of QB's like Kaepernick, Robert Griffin, and even to an extent Russel Wilson is based off of defensive coordinators throughout the league adjusting schemes to contain running QBs. While this does involve his performance, you really cannot blame Colin Kaepernick for this. They knew what they were getting when they drafted him out of a running Nevada offense – a great athlete and scrambler who in the right situation can make NFL throws. As 2015 rolled around, San Fran was left with an inaccurate QB who struggled to make pocket throws, much in part to a failure of the Niners staff to further develop these skills in Kaep.
#4: Decline of the Offensive Line
In addition to a stingy defense, the success that the 49'ers had was directly tied to a strong offensive line. This line was the consensus best in the league and helped running back Frank Gore scamper for consecutive 1,000 yard seasons. The group of Left Tackle Joe Staley, Left Guard Mike Iupati, Center Jonathan Goodwin, Right Guard Alex Boone, and Right Tackle Anthony Davis were the perfect mix of talent and experience.
The offensive line enjoyed another year of consistency in 2013, mauling the way for another 1,100 yard Frank Gore season. Soon after the season ended though, things began to unravel.  This began when Center Jonathon Goodwin returned to his former team in New Orleans in free agency. From there, Right Guard Alex Boone decided to hold out from camp demanding a new contract. While he eventually reported a few days before the season, Boone was overweight and turned in a subpar campaign. This was a big drop-off from 2012 & 2013 when he was one of the most intimidating players at that position in the league.
Even with a new Center and underachieving Right Guard, the Niners managed to show decently in the 2014 season, continuing Frank Gore's success. However, as the season ended, more turnovers amounted when previously mentioned Right Tackle Anthony Davis suddenly retired. In a move of similar magnitude, All-Pro Left Guard Mike Iupati signed a free agent contract with division rival Arizona. Iupati, known as a vicious run blocker, was a key part to the success the team had in running the ball. To make things worse the 49'ers traded for Jordan Devey(Guard) to replace Iupati during training camp. Devey has a long history of struggles. As former Grantland football writer Bill Barnwell said "playing behind Jordan Devey made Tom Brady look spent, imagine what it will do to Colin Kaepernick". The gradual decline of San Francisco's offensive line from one of the league's best to one starting fringe NFL talent is another major cause of their struggles.
#5: Father Time is Undefeated
Every athlete to ever play the game, no matter how successful, loses the battle to time and age. The 49'ers were no different as the aging and eventual decline of several key players was another accelerant to the championship window shutting. Over the last three seasons, several players retired or whose play drastically declined with age that served as major detriments to the team's success.
The first and arguably most important loss was of Defensive End Justin Smith. Smith was a perennial All-Pro, a force against the run and not only a good pass rusher in his own accord but allowed others like the aforementioned Aldon Smith to flourish. Smith also personified the rough and tumble nature of the 49'ers with brutish style of play, gloveless appearance and his nickname "The Cowboy". Unfortunately for the team, much of Smith's success came at the twilight of his career with his consensus best season (2012) coming at age 33. At the end of the 2014 season Justin Smith, one best defensive lineman of the last decade called it quits.
While Smith was a vital part of the vicious defense that San Fran possessed during their run, a major piece of the dominant run game was Running Back Frank Gore. Gore, one of the team's longest tenured players was a fan favorite with style of hardnosed running combined with nimble receiving skills. Since his selection in the 2005 draft, Gore had seldom missed a game and racked up over 10,000 rushing yards and 60 Touchdowns.  What made him most valuable to the team was his ability to stay on the field. Gore played in at least 11 games every season with the team and was always effective, never averaging below 2 yards a carry. As 2014 came to a close the team found themselves between a rock and a hard place. Gore was a free agent and the team had just invested significantly with a second round selection on RB Carlos Hyde. In addition Gore was 31, playing a position where 30 was seen as old. The Niners did the smart thing in letting Gore walk and not investing money on a player with almost 3,000 career touches. While Hyde has been adequate, it has still been a step down from the best running back in franchise history.
If losing Aldon and Justin Smith, Chris Boreland and Ray McDonald in less than a year wasn't enough, the team lost its heart and soul when Patrick Willis decided to hang up the cleats. Willis' scenario was an interesting one as he was only 30 at the time of his retirement. Unfortunately, he had been battling injuries the previous year and the 900 career tackles he had been a part of wore him down. Since an injury caused by 7 years of wear and tear led to his retirement, I have him in this category, but he also could be considered for the first. After being drafted in 2007 Willis burst on to the scene like very few rookies ever had, racking up an insane 174 tackles and 4 sacks. Since then, Willis was arguably the best player in the league at any position and the heart and soul of the 49ers. They lost both a star and a team captain – a vital part to their success.
Bottom Line:
While the mediocre performance of Colin Kaepernick has played its part, the 6 reasons stated above should give some clarity on the subject. The San Francisco 49er's may be have had the unluckiest off season in league history and combined with other external circumstances has primed them for failure. This is why you CAN'T blame the 49's failure on Colin Kaepernick.
Follow me on Twitter @Fly4_A_Whiteguy for more sports talk.