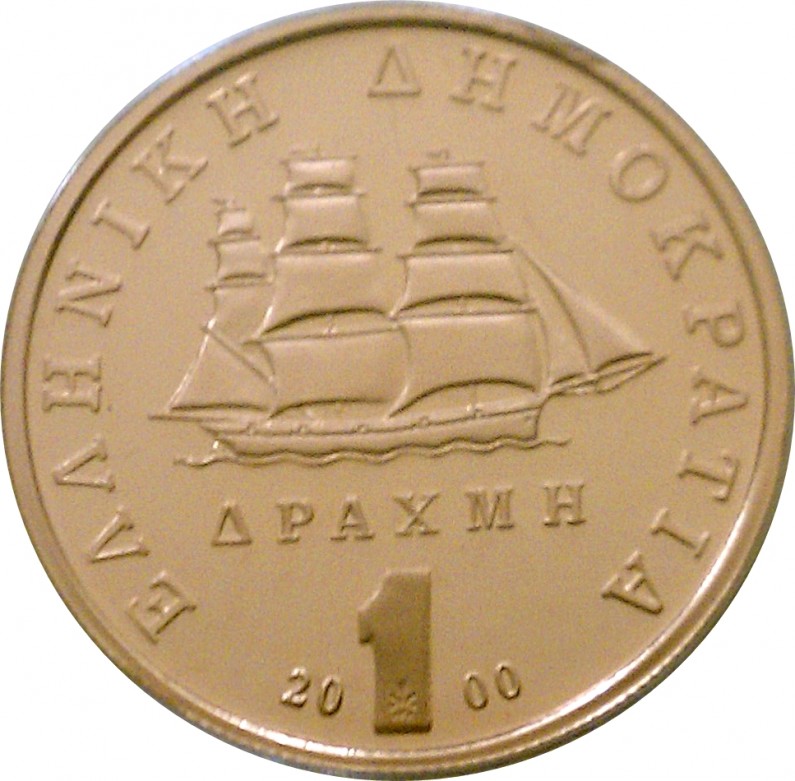 VIA "cnbc.com" by Leslie Shaffer
Fears Greece may exit the euro and revive the drachma abound, but attempting a return to the currency Athens left behind would have tragic results, Goldman Sachs said.
"Transitioning from the euro to a new national currency is no straightforward task either for Greece or for Europe," Goldman said in a note Monday. "Greece can't just (re)introduce a national currency."
Debating whether to rekindle the drachma, or drachmatization, isn't just an academic question. With negotiations over Greece's debt and finances proving touchy, the possibility the country may exit the euro zone, a scenario dubbed "Grexit," has become more likely, analysts say, although they still assign a relatively low probability.
"The probability of an accident is still there," Goldman said.
Modern tragedy
Greece has already had two bailouts since 2010, for a total of 240 billion euros. Athens has been playing a risky game in negotiations recently, with talks on its second bailout program going down to the wire last month and resulting in only a four-month extension. Since then, contradictory noises from Athens on sticking to the deal, which includes reforms to the pension and tax systems and anti-corruption moves, have hurt its relations with the rest of the euro zone.
But if Greece follows a Medea-like course to thwart hated austerity and reform programs, its economy could face a tragedy akin to the Euripides play, which left Medea's faithless husband mired in grief.
Even if negotiations fail and Greece walks out on both its debt and the euro, that won't allow the country to write off the debt or convert the liability to drachmas, Goldman said.
For one, its bailout loans — totting up to around 200 billion euros, or around two-thirds of Greece's debt — are essentially foreign treaties with other governments, with maturities ranging out to 30 years, the bank noted. Additionally, around 66 billion euros of marketable debt was issued under foreign law, it said.
"Liabilities would most likely run in arrears that would need to be paid off before Greece could ever tap financial markets," it said. "Greece would not be able to issue a globally traded currency."
That means Greek trade would collapse to what could be sustained by cash businesses in euros, Goldman said.
"It would be hard to convince even the Greeks to hold any drachmas," it said, noting that while the government could pay its employees, pensioners and suppliers in drachma, the currency couldn't be used to buy imported goods and exporters would want to be paid in a hard currency.
"The economy would remain largely euro-ized, but without a natural source of euro-liquidity," Goldman said.
How will they pay for the money?
There's another problem with returning to the drachma: how will Greece pay for printing its new currency? The country hasn't printed its own money for more than a decade, with the old drachma losing legal tender status in 2002.
Apart from the cost of designing new banknotes to incorporate new anti-counterfeiting features, the country will need to fund its printing press or pay to outsource the job. How expensive is that?
In the U.S., which arguably might get a volume discount that wouldn't be available for Greece, it cost $0.0166-$0.0895 per coin in 2014, according to the U.S. Mint, while for notes, the Federal Reserve is estimating a cost of $0.049-$0.123 each in 2015.
How many notes and coins would Greece need? Overall in the euro zone, there were more than 17 billion banknotes and nearly 111 billion coins in circulation as of January, according to European Central Bank (ECB) data.
It isn't clear how many of those coins and notes are circulating within Greece.
The ECB didn't immediately return an e-mailed request for comment about the production costs or circulation data.
Based on 2013 data, Greece's gross domestic product (GDP) made up around 1.35 percent of the European Union total. Extrapolating that percentage — admittedly an extremely poor analytical comparison — if 1.35 percent of euro banknotes and coins are circulating in Greece, the country would have around 230 million banknotes and 1.5 billion coins, suggesting costs could tot up to roughly $300 million for banknotes and over $130 million for coins.
Update: The production cost of a euro banknote ranges from 6-10 European cents ($0.07-$0.11) each, the ECB said via email.
–Holly Ellyatt contributed to this article.
—By CNBC.Com's Leslie Shaffer; Follow her on Twitter @LeslieShaffer1