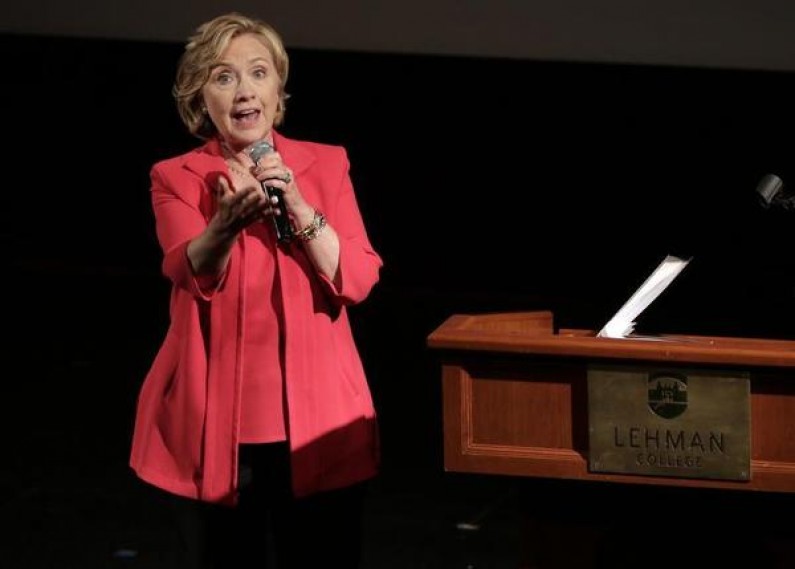 VIA "realclearpolitics.com" by Tom Bevan
Hillary Clinton may be delaying her official presidential announcement until the summer, but pollsters are under no compunction to wait that long—and a new survey of key swing states from Quinnipiac University helps explain why Clinton is dragging her feet: She can afford to.  Voters in Florida, Ohio, and Pennsylvania give Clinton double-digit leads over all of the potential Republican candidates, with two "favorite son" exceptions: in Florida, Clinton has just a one-point lead over former Gov. Jeb Bush (44 percent-43 percent), and in Ohio she maintains an identical one-point lead over the state's current governor, John Kasich.
"History suggests that once she becomes a full-fledged candidate and part of the nastiness that comes with politics these days, those numbers may drop some," said Peter A. Brown, assistant director of the Quinnipiac University Poll. "She begins the campaign in very strong shape with voters and not just Democrats. In the three big swing states she is getting 86 to 93 percent of Democrats, 36 to 54 percent of independent voters and even up to 15 percent of Republicans."
In Florida, Clinton leads the state's other "favorite son," Marco Rubio, by 10 percentage points, 49 to 39.  She also leads Kentucky Sen. Rand Paul by 12 points (50-38), former Arkansas Gov. Mike Huckabee by 17 points (51-34), and New Jersey Gov. Chris Christie by 18 points (51 to 33).
In Ohio, Clinton leads Bush by 11 points (47-36), Paul by 12 (48-36), Christie by 13 (47-34), and Huckabee by 15 (49-34).
In Pennsylvania, Clinton is even more dominant. She leads "favorite son" former senator and 2012 Republican presidential candidate Rick Santorum by 20 points, 54 to 34. Clinton also leads Huckabee by 20 points (54-34), Paul by 19 (53-34), and Bush by 15 (50-35).
The poll, conducted by Quinnipiac University from Jan. 22 to Feb. 1, surveyed 936 Florida voters with a margin of error of plus or minus 3.2 percentage points; 943 Ohio voters with a margin of error of plus or minus 3.2 percentage points; and 881 Pennsylvania voters with a margin of error of plus or minus 3.3 percentage points.