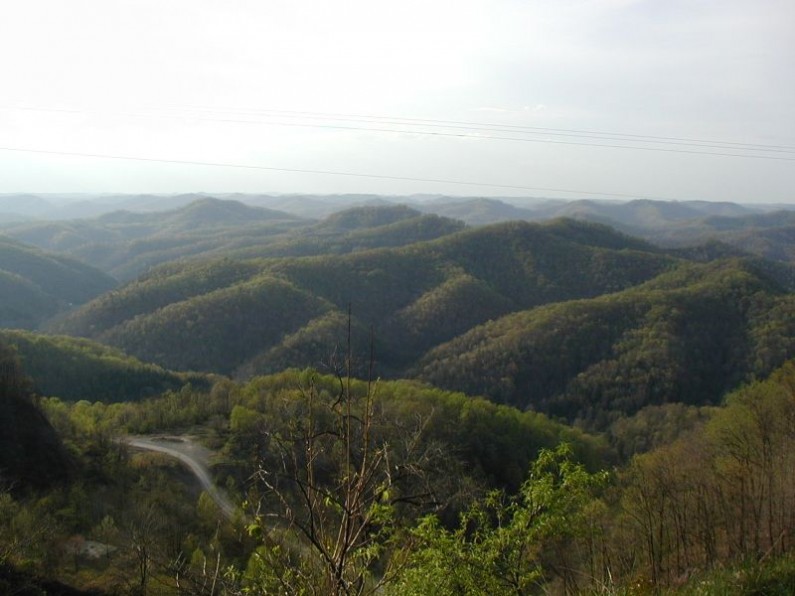 VIA "outdoors.org"
GREENVILLE, Maine— Scenic and ecologically significant lands on and around Baker Mountain in the 100-Mile Wilderness region near Greenville are now permanently protected following purchases by the Appalachian Mountain Club (AMC) in late January, with assistance from The Nature Conservancy (TNC).
The purchases by the nation's oldest conservation and recreation organization conserve the second highest peak in Maine between Bigelow Mountain and Katahdin, as well as the headwaters of the West Branch of the Pleasant River, a vibrant wild brook trout fishery.  The property lies within an unfragmented roadless area of mature hardwood and softwood forest, which also includes the preferred habitat of the rare Bicknell's thrush.
"Baker Mountain was surrounded by conservation lands, but the Baker Mountain tract itself was not protected. It was 'the hole in the doughnut,' and with this purchase, AMC and its conservation partner, TNC, have ensured that this ecologically significant land will be protected," said AMC Senior Vice President Walter Graff.
The land will be managed for a variety of uses, including recreation, habitat protection, and sustainable forestry. AMC will be providing pedestrian access to the land.
AMC purchased two adjacent parcels abutting its Katahdin Iron Works property: 3,111 acres from the Prentiss & Carlisle Group and Plum Creek Timber Co., and a separate parcel comprising 1,200 acres from Plum Creek.
TNC was a key partner in the acquisition, Graff noted. TNC holds a "forever wild" conservation easement on the first parcel covering about three-quarters of Baker Mountain, including its 3,521-foot summit, to ensure permanent protection of the land's ecological values, he said.
The second is permanently protected by the Moosehead Regional Conservation Easement, held by the Forest Society of Maine.
"Conserving Baker Mountain for future generations is a tremendous accomplishment, not just for its strategic location, surrounded by conserved lands, but also for what this project represents," said Michael Tetreault, director of TNC in Maine. "It supports the Appalachian Mountain Club's efforts to provide a unique backcountry recreation experience, while conserving an important ecological gem in Baker Mountain, within a mosaic of working forest lands."
Land acquisition, establishment of a stewardship endowment fund, and related costs totaled about $2.4 million, according to Graff.
The Baker Mountain acquisition was made possible in large part by the generosity of Steven C. Leuthold and his family. The Leutholds have a strong interest in protecting wilderness. After touring the area extensively, the family was committed to seeing this project through to completion. AMC and TNC are grateful to the Leuthold family and for the generosity of a small group of loyal AMC donors who helped protect Baker Mountain.
AMC also used proceeds from the sale of verified carbon emission offset credits from its ecological reserve lands as an important funding source for this land acquisition effort. By encouraging natural forest growth on its 10,000-acre ecological reserve, AMC is preserving stored carbon in the forest while realizing an additional revenue stream through the sale of these Climate Action Reserve-registered credits. "We're excited to be able to help reduce atmospheric carbon while at the same time using these revenues to directly support land conservation," Graff said.
The Baker Mountain purchases are the latest milestones in AMC's Maine Woods Initiative, a plan for land conservation in the 100-Mile Wilderness region that addresses regional ecological and economic needs through outdoor recreation, resource protection, sustainable forestry, and community partnerships.
The transactions bring AMC's conservation and recreation land holdings in the 100-Mile Wilderness region to some 70,000 acres.
With a growing roster of more than 5,000 members in Maine, the Appalachian Mountain Club offers educational programs for children, adults, and families; operates its Maine Wilderness Lodges for the public in the 100-Mile Wilderness region; operates Knubble Bay Camp and Beal Island Campground in Georgetown and Echo Lake Camp in Acadia National Park; publishes the popular AMC Maine Mountain Guide; and maintains offices in Portland and Greenville.
More information on AMC's Maine Woods Initiative is available at outdoors.org/mwi.
Founded in 1876, the Appalachian Mountain Club (AMC) promotes the protection, enjoyment, and understanding of the mountains, forests, waters, and trails of America's Northeast. AMC helps people of all ages and abilities to explore and develop a deep appreciation of the natural world. With chapters from Maine to Washington, D.C., guidebooks and maps, and unique lodges and huts, AMC helps people get outdoors on their own, with family and friends, and through activities close to home and beyond. AMC invites the public to support its conservation advocacy and research, youth programming, and care of 1,800 miles of trails. More information is available at www.outdoors.org.
The Nature Conservancy (TNC) is a leading conservation organization working around the world to protect ecologically important lands and waters for nature and people. The Conservancy and its more than 1 million members have helped protect more than 1.5 million acres throughout Maine and nearly 120 million acres worldwide. Visit The Nature Conservancy on the Web at www.nature.org/maine.