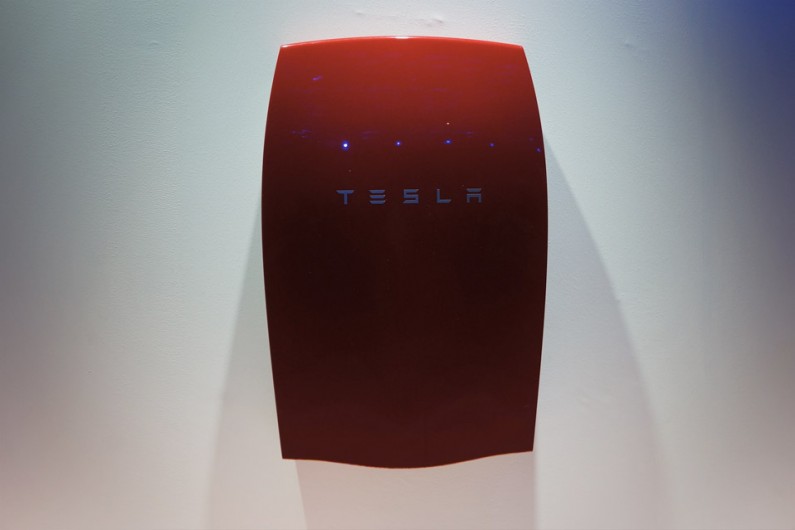 VIA True Activist by Adam Dearstine
The wait is over! Tesla announced a home battery and utility-scale battery that will power future homes.
We had gotten rumor of this new battery back in February when Elon Musk discussed it during an earnings call, but no additional details were made available at that time.
Tesla announced last September its plans to build a new Gigafactory in Reno, Nevada, 62 million has been spent so far. When all is said and done an estimated $5 billion will be spent on this project. Tesla plans to begin building lithium-ion batteries at this facility in 2017.  The lithium-ion battery technology is being positioned to be the front runner in emerging energy storage that also provides supplementary electricity.  Could this technology ultimately threaten our traditional electric grid? These new batteries when combined with the rapidly expanding residential solar market present exciting new opportunity's for off the grid living.
Tesla has teamed up with SolarCity, a company chaired by Musk and ran by his cousin Lyndon Rive.  Founded in 2006, the company has over 160,000 customers and controls almost 40% of the residential market.  Solarcity installs panels for both commercial and residential applications and leases them for less than what you pay on your energy bill, and they sell surplus energy back to local utility's.  This model has proven to be extremely successful for SolarCity. They have begun installing Tesla batteries mostly in commercial buildings at this time.  The batteries allow them to store excess energy for use during peak hours.  This has shown to shave off 20-30 percent of energy bills.  Solar City is currently running a pilot program with around 500 homes in California.  The project is using 10-killowatt-hour battery packs that supply homes with about 2 days of power in the event of an outage.
Electric cars, space exploration, low-cost wireless internet for anyone, and now home batteries.  Tesla Motors Inc has shown us that they are not just car makers, it begs to question what does Tesla have in store for the future?