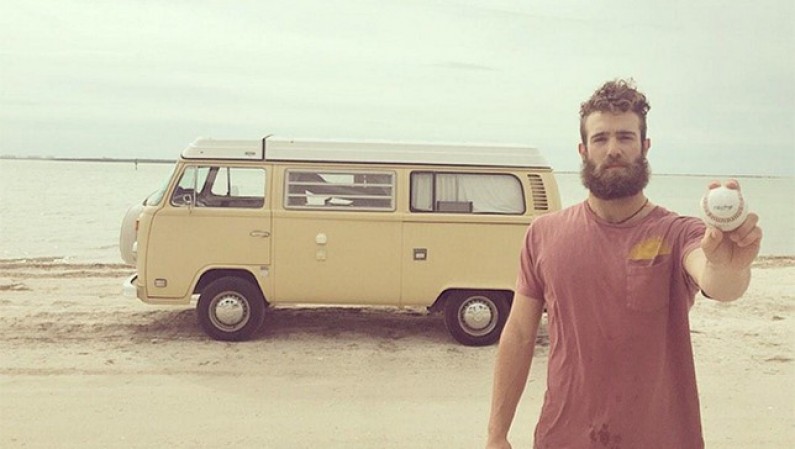 VIA "mnn.com" by Michael D' Estries
Young player, who got a $2M signing bonus in 2011, says he enjoys the simple life.
During the second round of the 2011 Major League Baseball draft, 18-year-old pitching phenom Daniel Norris was signed by the Toronto Blue Jays. His signing bonus? A cool $2 million. While any other prospect fresh out of high school might have taken that money and used it towards any number of expensive luxuries, Norris had his eye on only one splurge: a 1978 Volkswagen Westfalia microbus. The same microbus made famous by the "Scooby Doo" cartoon.
He promptly named it "Shaggy."
"I knew after I signed [with the Blue Jays] that I was going to get a Volkswagen van,"
Norris told Grind TV
. "It was my dream car."
In many ways, Shaggy also became his dream home, with Norris living out of the van during breaks between baseball. He has added solar panels, a bed, and only a few necessary possessions.
"I still cook my own meals, I have a kitchen — it's a little fuel-powered stove and I've got a couple pots and pans — and it works pretty well,"
he told Baseball America
. "I enjoy it. The way I grew up, my dad owned a mountain bike shop and that's really it, so we had to learn to take care of yourself and be sustainable with what you have."
Depending on where he needs to be, Norris's view is anything from a beach to a mountain stream. Most of the time, he told WJHL, there's just a lot of hanging out. "I like to explore so sometimes I'll just stop at the side of the road and look around. There's no plan involved."
 "I think the simplicity of it all was the most appealing," he added. "I grew up with a simple lifestyle, and I knew going into professional baseball that would be tested. In my mind there's no need for luxury, or at least society's sense of the word."
Norris, who has shared his van living through social media, will soon also be the subject of a short Vice documentary. His van living will be temporarily suspended on Feb. 22, when he reports for spring training to compete against two other pitchers for a shot in the big league rotation. To him, the chance to earn a permanent spot on the Blue Jays roster is more important than anything else written about him. 
"I'd rather be known for being the best baseball player I can be — that's my passion, that's my dream."